Convenience Channel Faces Consumer Barriers Around Quality, Assortment & Value
Get great content like this right in your inbox.
Subscribe
NEW YORK — The top barriers to purchase consideration for convenience stores aren't due to the in-store environment itself, but rather quality, assortment and value are the most likely attributes to dissuade consumers, the latest research from Nielsen found.
According to Nielsen's most recent Total Consumer Report, one in three Americans believe that products in c-stores fail to deliver a good value for their money. Conversely, only 4 percent perceive environmental factors like store format, customer service and wait time as barriers to this channel.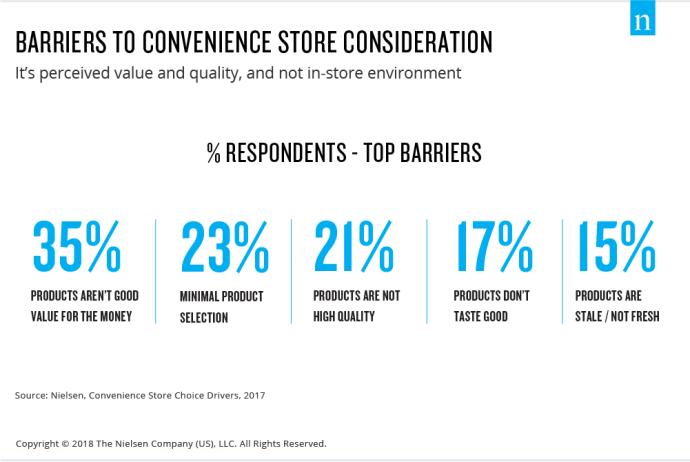 Despite some challenges, performance across the total convenience channel has varied. Overall traffic declined by 2 percent in 2017 and U.S. store count dropped by more than 350, but most store closures affected gas stations and kiosks. In fact, more than 450 new conventional convenience stores opened throughout last year. This means that even though traffic to the overall convenience and gas channel declined, the retail footprint for conventional convenience stores has grown.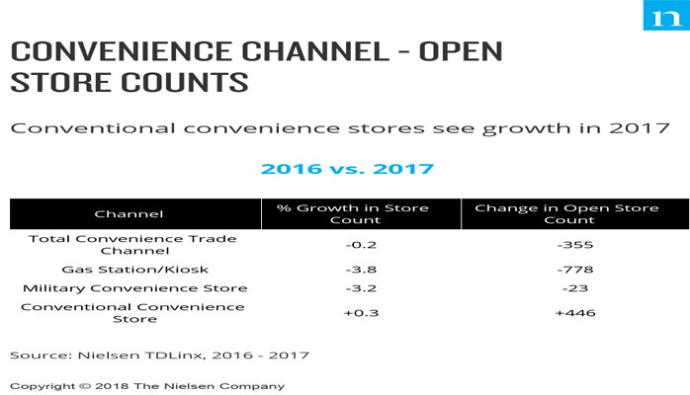 Additionally, consumers are ramping up their grab-and-go shopping, highlighting areas of opportunity. Notably, shoppers are spending 2 percent more per trip on fast-moving consumer goods categories within the convenience and gas channel than they were a year ago.
Across the Nielsen-measured convenience channel, sales increased by 1 percent in 2017 to more than $140 billion; however, very few categories drove this trend. Salty snacks are among those performing well with 2.3-percent dollar growth. According to the market researcher, how other departments can thrive in this sector of retail remains limited by how consumers perceive the channel, as stigmas still cloud consumers' ability to view c-stores as a viable and "convenient" alternative for ready prepared and packaged food and beverage needs.
Nielsen advises that with the proper nurturing, operators can change consumer perceptions about quality, optimize their assortment and better utilize promotions to offer a greater sense of value.