Convenience Store News Announces Winners of 2018 Best New Products Awards
Get great content like this right in your inbox.
Subscribe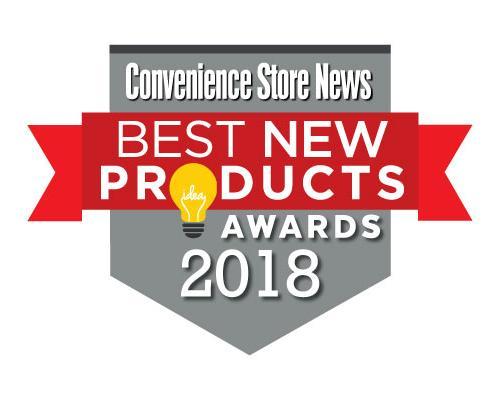 NEWARK, N.J. — Small bites ruled the day, along with healthier beverages, in this year's Convenience Store News Best New Products Awards program. 
Meals and snacking have melded into one nontraditional, all-day snack fest. Small bites must have a lot of flavor to win over today's consumers. Bold, ethnic flavors, nostalgia and, of course, products with a healthier-for-you appeal caught the attention of consumers voting on this year's favorite new items introduced to the convenience store industry.
Consumers selected 27 products new to c-store shelves in the past year for recognition in the 2018 Best New Products Awards competition. Now in its 22nd year, the program recognizes and honors the marketers that introduced the most innovative, high-quality products that meet consumers' evolving needs.
Judging was supervised by Past Times Marketing, a New York-based consumer research and product testing firm. Entries were rated and awarded points by consumers based on the criteria of taste, value, convenience, healthfulness, ingredients, preparation requirements, appearance and packaging.
The 2018 Best New Products Awards honorees are: 
Alternative Snacks/Granola Bars:
Nature Valley Layered Granola Nut Bars – Almond Butter Chocolate; General Mills
Alternative Snacks/Protein Bars:

 
On Protein Crisp Salted Toffee Pretzel Bar; Glanbia Performance Nutrition
Alternative Snacks/Meat Snacks:

 
Stryve Beef Biltong; Stryve Biltong Snacks
Beer:
Michelob ULTRA Pure Gold; Anheuser-Busch
Candy/Chocolate:

 
Hershey's Gold Peanuts & Pretzels Bar; The Hershey Co.
Candy/Chocolate/Novelty & Seasonal:

 
M&M's Ghoul's Mix; Mars Wrigley Confectionery
Candy/Gum:
Ice Breakers Ice Cubes – Peppermint; The Hershey Co.
Candy/Mints:

 
EXTRA Chewy Mints – Peppermint; Mars Wrigley Confectionery
Candy/Non-Chocolate:
Skittles Sweet Heat; Mars Wrigley Confectionery
Candy/Non-Chocolate/Novelty & Seasonal:
Starburst Minis & Beans; Mars Wrigley Confectionery
Cigars:
Game Berry Blast; Swedish Match
Dairy Beverages:

 
Califia Farms Probiotic Yogurt Drink – Super Berry; Califia Farms
Edible Grocery:

 
Chunky Maxx – Black Angus Beef Soup; Campbell Soup Co.
Foodservice/Bakery:
Rich's Churro Donut; Rich Products Corp.
Foodservice/Beverages:
Big Tea – Chamomile Mint; Harris Tea
Foodservice/Breakfast:

 
Italian Breakfast Panini; Johnsonville
Foodservice/Lunch:

 
Maid-Rite Sandwich; Land Mark Products – Day 'N Night Bites
Foodservice/Snacks:

 
State Fair Crispitos – Chicken Bacon Ranch; Tyson Foods
Frozen Foods:
Steak Bowl; Green Chile Food Co.
Healthy Snacks:
PopChips Nutter Puffs – Peanut Butter & Chocolate; Lil' Drug Store Products
Other Tobacco Products:
On! Nicotine Pouches; Intercontinental Cigar Corp.
Packaged Sweet Snacks:
Walkin' Wafels – Apple Cinnamon; Prairie City
Salty Snacks/Crackers:
Cheez-It Duoz – Caramel Popcorn and Cheddar; Kellogg Co.
Salty Snacks/Nuts & Seeds:

 
BIGS Sunflower Seeds – Taco Bell Taco Supreme; Conagra Brands
Sports Drinks:
Vitaminwater Active; The Coca-Cola Co.
Wine:

 
Red Sangria Spritzer; E&J Gallo Winery
Overall Innovation:

 
World Peas Peatos – Classic Cheese; Snack It Forward