11/27/2018
Convenience Store News Inducts 2018 Hall of Fame Members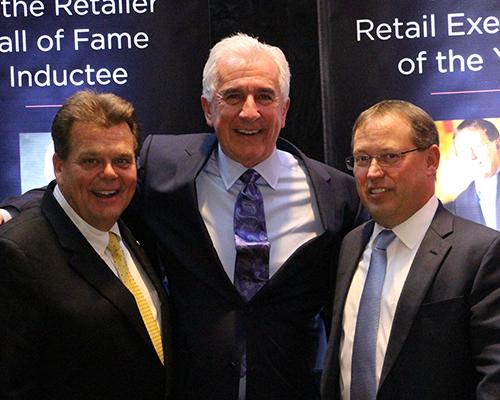 INDIANAPOLIS — Convenience store industry retailers, suppliers and honored guests came together to celebrate some of the most accomplished c-store industry leaders on Nov. 15, honoring the newest members of the Convenience Store News Hall of Fame and the 2018 Convenience Store News Retailer Executive of the Year.

The 32nd annual Hall of Fame ceremony highlighted the leadership and accomplishments of Jay Ricker, founder and chairman of Ricker Oil Co., and Rick Brindle, vice president of industry development for Mondelēz International Inc., as the retailer and supplier inductees, respectively.
Joe Sheetz, president and CEO of Sheetz Inc., was honored as the Retailer Executive of the Year.

Hall of Fame members are selected by a 50-member blue ribbon panel of top convenience store industry executives, as well as past retailer and supplier Hall of Fame inductees. The Retailer Executive of the Year, now in its sixth year, is also chosen by a blue-chip panel of industry leaders.

The 2018 ceremony took place at Indianapolis' Omni Severin Hotel, located near Ricker Oil's headquarters in Anderson, Ind. The awards dinner was sponsored by Altria Group Distribution Co., BIC USA Inc., The Hershey Co., Mondelez International, Reynolds American Trade Marketing Services and Ruiz Foods.

Fellow Indiana retailer, Family Express President Gus Olympidis, helped induct Ricker and noted that he had a hard time separating Jay Ricker from his family. Ricker founded his company in 1979 in partnership with his wife Nancy, who ran the office, and his son Quinn, who later succeeded him as president and CEO.

"This family has fertilized with its service good that impacts others, and they have done it in a big way," Olympidis said.

7-Eleven's Jack Stout, senior vice president, merchandising, marketing and demand chain, presented the award to Ricker in place of 7-Eleven CEO Joe DePinto, last year's retailer inductee, who was unable to attend. Stout described Ricker as a "guiding light" and a great pioneer of the convenience store industry who serves as an example of how to build important community connections that go beyond marketing and advertising.

In his acceptance speech, Ricker, who is known for being a proponent of involvement in industry associations, study groups and other ways of sharing knowledge, reflected on what it means to operate in the world of convenience stores today.

"It's such a big industry, but it's such a small industry," he said.

Ricker thanked the leaders of Sheetz Inc. and Kwik Trip Inc. for serving as mentors in his company's earlier days. He also thanked his 90-year-old mother Barbara who, with her husband, came through with a critical financial investment after the bank withdrew financing shortly before Jay and Nancy purchased the jobbership that would become Ricker Oil. Barbara Ricker was in attendance at the dinner and received a standing ovation from the crowd.

Ricker also acknowledged that while the recently announced sale of Ricker Oil to Giant Eagle came following an offer the company couldn't refuse, "it's like letting go of our third kid."

Helping to induct Rick Brindle, Altria's Blake Benefiel, last year's supplier inductee, offered one word that he associates with Brindle: authenticity. This applies to both his character and his competence.

"He's one of the most genuinely authentic people I've had the pleasure of engaging with," Benefiel said, calling out Brindle's "deep passion and tireless advocacy for the industry."

Brindle, currently vice chairman of the NACS Supplier Board, has led industry development for Mondelēz International since 2012 and has experience spanning the grocery, club, e-tailing and mass merchandiser classes of trade.

"I couldn't have asked for a better group of people in the room," Brindle said during his acceptance speech.

While Hall of Fame members are chosen based on their lifetime achievements, the Retailer Executive of the Year award honors an industry leader for recent leadership, business acumen, dedication to the industry, and commitment to community service. The evening closed with the presentation of the 2018 award to Joe Sheetz, who stepped into his current role in October 2013 and recently concluded his term of service as NACS chairman.
As he took the stage, Sheetz said he sees his No. 1 job as being the keeper of the culture.

"I've loved this industry since I was a kid and didn't even know what an industry was. I just loved hanging around the store," he said. "In other industries, people don't like each other as much and certainly don't help each other as much."

While accepting his award, Sheetz noted that he prefers group recognition over individual honors, as the Sheetz family does things as a team.