Couche-Tard Boosts Casey's Offer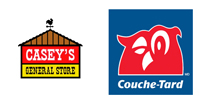 LAVAL, Quebec -- Alimentation Couche-Tard Inc. yesterday increased its tender offer to $38.50 per share in cash -- totaling approximately $2 billion -- to acquire the outstanding shares of common stock of Casey's General Stores Inc. The revised offer includes net debt of Casey's of approximately $528 million.

"In raising our offer, we have taken into account the views of the Casey's shareholders and our goal of completing a transaction that makes compelling strategic sense for both companies," Alain Bouchard, president and CEO of Couche-Tard, said in a statement. "In Casey's self-tender offer, the shareholders of Casey's made clear their views on the value of Casey's."

The fact that a majority of the then-outstanding shares of Casey's were tendered at $38 per share demonstrates that our revised offer to acquire 100 percent of the outstanding shares of Casey's for $38.50 per share in cash is compelling."

Couche-Tard's increased all-cash offer is 50 cents per share higher than the price of Casey's recent self-tender, Couche-Tard noted.

"We believe that our revised offer is the most attractive strategic alternative available to the Casey's shareholders, and delivers immediate cash value superior to what Casey's can deliver continuing as a standalone company," Bouchard added. "We remain ready, willing and able to complete a transaction with Casey's expeditiously and urge the Casey's board of directors to begin discussions with Couche-Tard immediately to maximize value for the Casey's shareholders and make this combination a reality."

Responding to the increased bid, Casey's advised its shareholders yesterday not to take any action regarding the Canadian convenience store company's revised tender. Casey's board will review the revised tender offer and make a recommendation to shareholders in due course, pending consultation with its financial and legal advisors. The Midwest retailer also noted that its board rejected prior Couche-Tard tender offers of $36 per share and $36.75 per share and recommended that shareholders not tender their shares.

Couche-Tard's increased offer represents a 32 percent premium over the one-year average closing share price of Casey's as of April 8, 2010, a 26 percent premium over the 90-calendar day average closing share price as of that date, and a 22 percent premium over the closing price of $31.59 per share of Casey's on April 8, 2010. Couche-Tard's increased offer also represents a 17 percent premium to the all-time and 52-week high trading price of common stock of Casey's prior to April 8, 2010.

Meanwhile, Couche-Tard also secured financing for the potential hostile takeover through a credit agreement with a consortium of Canadian and international financial institutions led by The Bank of Nova Scotia, HSBC Bank Canada, Caisse de dépôt et placement du Québec and Rabobank Nederland, Canadian Branch, the Canadian retailer stated. The banks agreed to provide up to $1.5 billion in funds pursuant to a four-year unsecured term loan facility. The term loan facility, together with Couche-Tard's existing credit facilities and cash on hand, will be used to finance Couche-Tard's tender offer to acquire all of the outstanding shares of common stock of Casey's, the company stated.

"As we have said all along, Couche-Tard is making its offer from a position of financial strength. Our new financing agreement underscores the seriousness of our offer and our deep commitment to making a combination with Casey's a reality," Bouchard stated. "In contrast to assertions made by Casey's, we obtained financing on terms significantly more favorable than the terms of the notes issued by Casey's to finance its leveraged recapitalization plan, despite Couche-Tard's higher leverage and the leverage of a combined Couche-Tard and Casey's on a pro forma basis. Couche-Tard's financing does not require a make-whole payment at the expense of shareholders in any event. As we have previously pointed out, the 'poison put' provision in the notes issued by Casey's, if enforceable, makes it approximately $110 million more expensive to acquire Casey's (based on current treasury rates), which equates to approximately $2.88 per share (after giving effect to the Casey's recapitalization), and thereby detracts from the value that may be received by the Casey's shareholders."

In other news regarding the hostile takeover attempt, Casey's revealed the final results of its Dutch auction tender offer, which expired Aug. 25, 2010.

Based on the final count by the depositary for the offer, a total of approximately 26.8 million shares were tendered at a price of $38 per share, including approximately 12.6 million shares tendered through notice of guaranteed delivery, according to the company. The shares purchased in the offer represent approximately 25.8 percent of Casey's shares outstanding as of Aug. 31, 2010.

Following consummation of the Offer, Casey's expects to have approximately 37.8 million shares of common stock. Payment for the shares accepted for purchase under the offer will be made promptly, and all shares tendered and not accepted for purchase will be returned, the company stated.