Couche-Tard "Disappointed" in Casey's Actions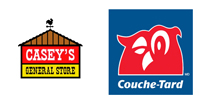 LAVAL, Quebec -- Alimentation Couche-Tard Inc. responded yesterday to Casey's General Stores Inc.'s rejection of its revised tender offer and recapitalization actions, stating the Canadian retailer is disappointed, but will continue to evaluate its options.

Couche-Tard's increased July 22 tender offer to purchase all the common shares of Casey's for $36.75 per share in cash, was rejected by the Midwest retailer's board of directors yesterday.

"We are disappointed that the Casey's board of directors has rejected our increased $36.75 cash offer and has initiated a recapitalization for only 25 percent of the shares without even sitting down to talk to us," Alain Bouchard, president and CEO of Couche-Tard, said in a statement released by the company. "We will continue to evaluate our options."

On June 8, Casey's board rejected Couche-Tard's initial $36 per share tender offer, and recommended shareholders not tender their shares.

Couche-Tard said its new all-cash offer represents a 26 percent premium over the one-year average closing share price of Casey's as of April 8, 2010; a 20 percent premium over the 90-calendar day average closing share price of Casey's as of that date; and a 16 percent premium over the closing price of $31.59 per share of Casey's on April 8, 2010.

The offer implies a last 12 months (as of April 30, 2010) EBITDA multiple of 7.2 times and a price of $1.25 million per store, according to the company, which noted in a statement that this compares favorably to corresponding metrics of publicly traded companies and precedent transactions in the convenience store industry.