10/03/2010
Couche-Tard Drops Takeover Plans for Casey's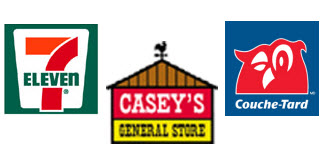 LAVAL, Quebec -- Alimentation Couche-Tard Inc. allowed to expire on Sept. 30 its tender offer to acquire shares of Midwest convenience store retailer Casey's General Stores Inc., marking the end of the Canadian company's hostile takeover attempt, which began publicly in April.

"We sincerely appreciate the support we have received from our shareholders, as well as the support from many shareholders of Casey's," Alain Bouchard, president and CEO of Couche-Tard, said in a statement. "From the beginning of this process, Couche-Tard demonstrated the seriousness of its interest in acquiring Casey's, and we continue to believe that our fully-financed, $38.50 per share cash tender offer was the most attractive strategic alternative available to shareholders of Casey's. However, we have decided not to continue to pursue our offer given the Casey's board's repeated refusal to negotiate with us."

At the expiration of the offer, certain conditions to the offer had not been satisfied and Couche-Tard had not waived those conditions. No shares of common stock of Casey's were purchased by Couche-Tard pursuant to the offer, and all tendered shares will be returned promptly, the company stated.

This follows Casey's Sept. 23 annual shareholders meeting, where all of its board members were reelected, thus rejecting a slate of nine directors nominated by Couche-Tard as part of its takeover attempt.

"Couche-Tard approached this opportunity in a disciplined manner and our basic premise is always that a transaction must create value for our shareholders," Bouchard said. "We look forward to building upon our outstanding track record of delivering growth and value to our shareholders."

Canaccord Genuity analyst Derek Dley told Reuters the outcome emphasized Couche-Tard's disciplined nature.

"This is what we've seen in the past, and I expect them to remain disciplined and shrewd in acquisitions going forward," he said in the report. "That being said, Casey's was the most likely way to add in one big swoop to Couche-Tard's network."

Couche-Tard may look for growth elsewhere, and analysts have noted other acquisition opportunities within the U.S. c-store market, as there are roughly 17 chains with networks in the 300 to 1000-store range, Dley said. "I think this is where Couche-Tard's at. They may shift focus toward some of these companies, going ahead."

With the elimination of Couche-Tard as a buyer, the focus turns to Dallas-based 7-Eleven, which previously presented a non-binding, $40-per-share bid for Casey's General in September, and had entered negotiations with the Iowa-based chain.

"This might even shift the ball a little bit more into 7-Eleven's court," said Dley in the Reuters report. "The leverage that they may have had -- where they were looking to have an escalating bid -- is now gone so it will be interesting to see what 7-Eleven does going forward."

However, should those talks fall through, Couche-Tard could revisit the bid again, he said. "They have a history of that. ... It is a possibility I would say in the medium term. I wouldn't really see it in the short term," said Dley.