Couche-Tard Earnings Grow 42.2 Percent in Q1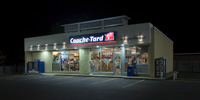 LAVAL, Quebec -- Alimentation Couche-Tard Inc. yesterday reported net earnings hit a record $129.5 million in its first quarter, ended July 18. That represents an increase of 42.2 percent, mainly attributable to the growing contribution of merchandise and service sales; the growth in same-store motor fuel volume in both Canada and the U.S.; a 3.69-cents-per-gallon increase in motor fuel gross margin in the U.S.; the contribution from a growing number of sites offering fuel; and the strengthening of the Canadian dollar, according to the company.

Those positive factors were partially offset by an increase in electronic payment modes resulting from higher average motor fuel retail prices.

"There is nothing like finishing a year on a great note and starting another one the same way. During fiscal 2010, we posted a record year and we are starting fiscal 2011 with a record quarter," Alain Bouchard, president and CEO, said in a statement. "It's even better when the results are supported by what makes us what we are: in-store sales. Indeed, during the quarter, same-store merchandise sales as well as the merchandise and service margin both showed interesting growth. When we combine this performance to our cost containment efforts and to a good motor fuel margin in the United States, we get a quarter of which we can be proud."

In a statement, Bouchard also expressed his disappointment by the decision of the Casey's General board of directors to reject Couche-Tard's acquisition offers and to "create obstacles without even opening the dialog."

However, the CEO of the largest company-operated convenience store chain in North America said he still believes combining Casey's and Couche-Tard is in the best interest of both companies' stakeholders and that Couche-Tard would continue to evaluate its options.

Raymond Paré, vice president and CFO, added: "In addition to being encouraging on the operational side since growth in earnings is mostly due to the growing contribution of merchandise and service sales, this quarter's excellent performance allowed us to improve our financial position and the strength of our balance sheet which were already strong. Thus, we are in an even better position to realize our growth projects while remaining prudent. For many years, we have shown that our organic growth is as solid as our growth due to acquisitions. Furthermore, it is clear that the core of our results rests principally with our merchandise and service sales which represented 76 percent of our gross margin for the 52-week period ended July 18, 2010. Finally, the volatility of the fuel portion decreases greatly when it is viewed on an annual basis rather than short-term."

Among the highlights of the company's Q1 report:

• Same-store merchandise sales were up 4.4 percent in the U.S. and 6.6 percent in Canada.
• Consolidated merchandise and service gross margin in proportion of sales was up 0.4 percent. Margin was 32.9 percent in the U.S. and 35.1 percent in Canada.
• Same-store motor fuel volume was up 1.1 percent in the U.S. and 5.4 percent in Canada.
• Motor fuel gross margin in the U.S. was up 3.69 cents per gallon to 19.12 cents per gallon.
• Operating, selling, administrative and general expenses accounted for 27.8 percent of merchandise and service revenues in the first quarter of 2011 against 28.3 percent during the comparable quarter last year.