Couche-Tard Extends Offer for Casey's General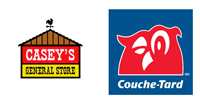 LAVAL, Quebec -- Alimentation Couche-Tard Inc. extended its $36.75 per share tender offer for Casey's General Stores Inc. until 5 p.m. EST Aug. 30, 2010, unless further extended.

The offer had been scheduled to expire at 5 p.m. EST Aug. 6, 2010.

As of July 30, 2010, approximately 12 percent of the outstanding shares of Casey's, or 6,112,533 shares, were tendered and not withdrawn pursuant to the offer, Couche-Tard stated.

This action follows Casey's July 27 recommendation to shareholders to reject the offer, which Couche-Tard increased by 75 cents per share from the initial $36 per share bid issued in March.

This is the second time the Canadian convenience store retailer is extending its tender offer to Casey's General shareholders. It first was extended July 9. As of the original expiration date, less than one-fifth (19.2 percent) of the company's shares were tendered to Couche-Tard and not withdrawn pursuant to the offer.

The most recent extension also follows Casey's board's approval of a $500 million recapitalization plan for the convenience retailer, and reaffirmed its strategy to continue to follow its growth plan.

The recapitalization plan will be executed through a modified "Dutch auction" self-tender offer for up to $500 million of the company's common stock at a price of $38 to $40 per share, and will be funded by a combination of debt financing and available cash.