Couche-Tard May Increase Casey's Offer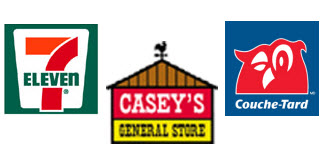 LAVAL, Quebec -- Less than a day after Dallas-based 7-Eleven Inc. was confirmed late Thursday to be the unnamed, $40-per-share rival bidder for Casey's General Stores Inc., the other bidder, Alimentation Couche-Tard Inc. sent a letter to Casey's board of directors, responding to the news and hinting at a possibility of increasing its $38.50 per share offer if it was allowed to join the negotiations.

"We are disappointed that, instead of engaging in discussions with us … over the last five months, you have continually created obstacles that are designed not only to impede our offer, but to impede a sale of Casey's to any party," Alain Bouchard, Couche-Tard's president and CEO, wrote in the letter, noting Casey's Sept. 7 announcement that it authorized discussions to explore a transaction based solely on a preliminary proposal first communicated in a telephone call was an attempt "to distract your shareholders, in the midst of a proxy contest, from considering our fully financed offer."

He continued: "Since you have begun the process of exploring a sale transaction involving Casey's, we fully expect that you will afford us the same opportunity to participate in the process."

Bouchard stated that Casey's shareholders will benefit if all interested bidders are granted equal access to the process and have an opportunity to submit offers.

"If we are granted access to a fair process and have the opportunity to conduct a confirmatory due diligence review of Casey's, we would be willing to consider further increasing our offer," the letter stated. "Should Casey's decline to conduct a fair process, your shareholders would be deprived of additional value that we may have been willing to offer."

Because of this, Bouchard asks the board to delay its annual meeting, currently scheduled for Sept. 23, 2010, so it can complete a "full and fair sale process" and report the results to shareholders prior to the annual meeting.

"In this manner, your shareholders, the true owners of Casey's, will have the opportunity to decide the future of Casey's for themselves with the benefit of complete information," he wrote.

While the Casey's board reviewed 7-Eleven's $40-per-share proposal and firmly believes its value substantially exceeds $40 per share, it authorized discussions with 7-Eleven to explore whether a transaction can be reached that reflects the true value of Casey's and is in the best interests of Casey's, its shareholders and other constituencies, the company stated.

Casey's has said its shares are worth around $45 U.S. "without a takeover premium," according to published reports. Casey's noted there can be no assurances that a transaction will be reached and that it is under no legal obligation to provide an update on the discussions.

In the wake of the confirmation Thursday, analysts predicted a long battle ahead between the two c-store giants as they vie for the Midwest retailer of more than 1,500 locations.

"I think we're going to see a long, drawn-out battle," Derek Dley, an analyst with Canaccord Genuity in Vancouver, told FinancialPost.com. "The entry of 7-Eleven is interesting because they're really the only other major convenience store that's big enough to take a run at it."

Some thought higher bids and even an auction could be in store.

"If the Casey's board is really looking out for its shareholders and is interested in selling the company, it must take it to auction," said Dley, who was also quoted in the Montreal Gazette.

Added TD Newcrest analyst Michael Van Aelst: "The new Casey's board proposed by Couche-Tard for election at the Sept. 23 annual meeting would open the books to all serious bidders." He also suggested Couche-Tard will have to raise its offer "to open up the lines of communication."

Others questioned the tactics and reasoning of both bidders.

"Couche-Tard's actions have been bizarre ... in terms of getting Casey's management to have conversations with them," Karen Short, an analyst with BMO Capital Markets in New York, told FinancialPost.com. "That doesn't change the fact that they're pretty committed to getting a deal to happen."

She noted 7-Eleven mainly operates in urban settings, while Casey's runs rural outlets, and questioned the strategic rationale, as 7-Eleven is largely made up of franchises, while Casey's has only company-owned stores.

"Casey's is a significant deviation," Short said in the report. "Changing Casey's to 7-Eleven would not help increase business. Casey's has a really loyal following in the Midwest and it would probably reduce sales, not increase them, which is why I'm scratching my head."

Goldman, Sachs & Co. is acting as financial advisor to Casey's, and Cravath, Swaine & Moore LLP and Ahlers & Cooney, PC are providing legal advice.