Credit Card Industry Faces Changing Tides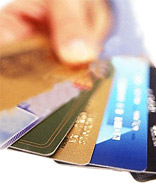 NEW YORK -- As the country still struggles with economic woes, credit card companies are retooling their strategies to get, and keep, new customers. And they may find that what works today may not be the biggest draw tomorrow so the companies need to keep their eyes on the next big innovation.
In Mintel Comperemedia's Webinar "Credit Card Strategy: A New Era for Loyalty Marketing" on Dec. 14, Andrew Davidson, senior vice president, explained that three themes dominate the credit card industry today: a shifting landscape, fierce competition and the need to build relationships.
As the country enters its third year of a rough economy consumers are looking to make the most of their money. The credit card landscape consists of four segments: general, premium, plain vanilla and credit building. As Davidson explained, the general segment, which encompasses cards that do not have fees but offer rewards, is the largest piece of the credit card pie. Running second is premium, which are cards that have fees and offer rewards. Rounding out the market are cards that have no fees and no rewards (plain vanilla) and those with fees but no rewards (credit building). Broken down further, he added, the general segment makes up 77 percent of those cards with rewards and premium makes up 23 percent. And of those credit cards in the general segment, cash back rewards rule the roost.
"With the recession, consumers began saving more, used credit cards less and became more frugal," Davidson said. This is highlighted by consumer demand for savings on items they already buy and for immediate discounts on merchandise at the time of purchase. The recession has also shown a shift toward rewards programs mentioning groceries and gas, he added.
As the landscape changes, competition in the credit card industry has heated up. According to Davidson, the number of consumers enrolled in loyalty programs rose 23 percent from 1.3 million in 2007 to 1.8 million in 2008. But despite the economy's downward spiral, those loyalty programs still remained active in 2009. "Consumers are looking for incentives for using their loyalty programs," he said. "It seems clear customers just want more for their money." Davidson further explained that when looking at credit card offers, consumers first look for cards that offer the highest rewards, second at cards that offer instant redemption and third at the cards that offer the highest percentage cash back. "Consumers are quite ruthless," he added.
One example that competition has ramped up is Chase's new Continental Presidential Plus Card which takes direct aim at affluent American Express customers. In turn, American Express stopped its program that allowed Platinum users entry into Continental's Presidential Lounge at airports.
Competing companies are also exploring new frontiers, most notably the hotel market. Four new cards were launched this year offering hotel points -- a shift away from airline miles, he added.
But as credit card companies battle each other for dominance in the market, their relationships with consumers must be a priority. More and more, banks are using rewards to build customer relationships across multiple products, Davidson said, and regional banks see this as a golden opportunity to compete on a larger scale. For example, Fifth Third Bank -- which operates in 12 states -- offers World Debit Master Card, a combined debit and rewards card.
Credit card campaigns should also concentrate on redemption opportunities when aiming to build customer relationships, Davidson added. Chase Ultimate Rewards Card, which was launched last year, focuses on this by letting consumers choose how they redeem their points. Those redemption options include travel, cash back, merchandise and gift cards.
And as we head into 2011, Davidson makes several predictions for the future of the credit card. He sees the industry cracking the instant redemption frontier, explaining that the industry is taking "significant steps forward." Also on the horizon will be the growth of prepaid debit cards with rewards. "Most predict the prepaid market is poised for significant growth," he added.
Rounding out Davidson's predictions for 2011 and beyond are the growing importance of points-transfer programs, more aggressive messaging and the growth of mobile loyalty programs fueled by the growth of the smartphone industry.