CSNews Bestows 2017 Best New Products Awards
Get great content like this right in your inbox.
Subscribe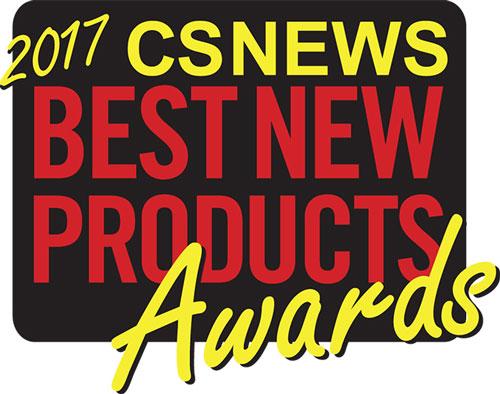 NATIONAL REPORT — Thirty-six products new to convenience store shelves in the past year have been selected as winners in the 21st annual Convenience Store News Best New Products Awards competition.
The CSNews Best New Products Awards program recognizes and honors the marketers who introduced the most innovative, high-quality products that meet consumers' evolving needs.
This year's winners certainly reflect changing consumer needs, with many featuring and playing to aspects of the foodie culture, spurred on by millennials. That means many of this year's best new products are made with local, pure, ethically or naturally-raised and grown ingredients, which are readily transparent to the consumer. For instance, most of the alternative and healthy snack winners are chock full of fresh and organic ingredients. And the winning flavors of many products are bold, reflecting the multicultural influence in the United States.
Judging for the 2017 CSNews Best New Products Awards was supervised by Past Times Marketing, a New York-based consumer research and product testing firm. Contest entries were rated and awarded points by consumers based on the criteria of taste, value, convenience, healthfulness, ingredients, preparation requirements, appearance and packaging.
The 2017 CSNews Best New Products Awards honorees are:
Alcoholic Beverages/Beer: Amstel Xlight
Alcoholic Beverages/Cider: Strongbow Mini Cans
Alternative Snacks/Fruit Snacks: Fruit Gushers Sour
Alternative Snacks/Health & Energy Bars: FITCRUNCH Birthday Cake Bar
Alternative Snacks/Meat Snacks: Perky Jerky Beef Stick
Candy/Chocolate: M&M'S Caramel Chocolate Candies
Candy/Mints: Breath Savers Protect
Candy/Novelty & Seasonal: Trolls Candy Fan
Dairy Beverages: Horizon Organic Milk Aseptic Quarts
Dairy Products: CheeseHeads Sticks
Edible Grocery: Yo Momma's Style Colorado Green Chile
Energy Products: FORTO Coffee Shots
Foodservice/Breakfast: Big AZ Western Style Omelet Wrap
Foodservice/Condiments: Califia Farms Barista Blend
Foodservice/Lunch: Hillshire Farm Premium Chicken Sausages, Bacon & Gouda
Foodservice/Snacks: Bosco Sticks Ham & Cheese
Frozen Novelties: M&M'S Brand Ice Cream Bars
General Merchandise: Personalized Lanyard Keychains
Health & Beauty Care: Nicorette Gum
Healthy Snacks/Crackers: Good Zebra Spirit Animal Crackers
Healthy Snacks/Other: Goodfoods Chunky Guacamole & Tortilla Chips
Liquor: Cafe Agave
Non-Edible Grocery: Purina Beneful Grain Free
Packaged Beverages/Alternative: Wonder Drink Kombucha
Packaged Beverages/Bottled Water: Volvic Natural Spring Water
Packaged Beverages/Carbonated: Belvoir Fruit Farms Organic Cucumber & Mint Lemonade
Packaged Beverages/Juice Drinks: Califa Farms Tangerine Juice
Packaged Beverages/RTD Tea: Gold Peak Tea Chai Latte & Vanilla Chai Latte
Packaged Sweet Snacks: Krispy Kreme Doughnuts
Salty Snacks/Nuts & Seeds: BIGS Tapatio Chile Limon Sunflower Seeds
Salty Snacks/Other: Take 5 Snack Mix
Tobacco/Cigars: White Owl Blue Raspberry
Tobacco/Cigarettes: Gold Crest Cigarettes
Tobacco/Electronic Cigarettes & Vapor Products: Cue Vapor System
Wine: Gallo Family Vineyard Sweets
Overall Innovation: Califa Farms Nitro Cold Brew Mocha
Susan Durtschi, an experienced buyer and product development specialist for both brick-and-mortar and online retailers, is president of Past Times Marketing, a consumer research firm. For the eighth consecutive year, Convenience Store News partnered with Past Times Marketing for the Best New Products Awards. Past Times works via focus groups and through online surveys with consumers across the country to judge new products. For more information, go to www.pasttimesmarketing.com.