CSNews Exclusive: Family Express Takes Loyalty Up a Notch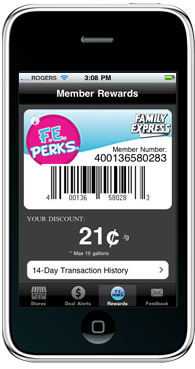 VALPARAISO, Ind. -- A likely common denominator among c-store customers is a cell phone, and with mobile applications growing exponentially each year, the best way to connect with them is virtually -- a pursuit embraced by Family Express, who launched a mobile version of it F.E. Perks loyalty program this past July.

"Our program initially provided the consumer with a rewards card. However, knowing that the most convenient use of F.E. Perks for many consumers would be through a mobile application, this functionality was built into the original platform," Bill Nolan, vice president of marketing for the 51 unit chain headquartered in Valparaiso, Ind. told CSNews Online. "This state of the art functionality eliminated the need to search or fumble through your purse or wallet to find the card at checkout."

Before the successful launch, the company underwent a thorough discovery process, which involved determining what applications to offer and selecting a technology provider. "The technological components developed on the application side were items we thought active consumers would need: store finder maps, real-time promotions and fuel prices, as well as a way for consumers to contact us," Nolan explained.

While Family Express team was in contact with many vendors in the industry, they also sought out recommendations for a provider that could develop and deliver the highest quality, consumer-friendly product. Nolan explained that Centego was eventually hired to handle the F.E. Perks functionality and GasBuddy developed the application.

As all stores were being outfitted with bar code reading scanners to integrate the use of smart phone mobile devices, employees were brought up to speed. "We had a comprehensive training program for the entire team, so everyone from the front line store associates to the office staff needed to have a thorough understanding of the program, enabling face to face discussions to facilitate a quick learning curve for the customer," said Nolan. "Saving a Fortune on Fuel is a great value, but just as important F.E. Perks is easy to understand and use. Keeping our store team just as informed as the staff working on it behind the scenes was a key element of connecting Perks with the consumer."

Over the last two years, customer confidence with mobile applications has increased, a trend Family Express has noticed, yet pre-launch expectations were mixed, according to Nolan. "We knew there were a number of folks out there that wanted to have mobile access, but we didn't know what the response was going to be," he said. "So far our expectations have been exceeded."

Since the July launch, thousands of cards have been issued and approximately 25 percent of Family Express' daily customers are using their Perks card, Nolan said, adding that 20 percent of those customers have become registered Perks members. These customers have provided contact information so they can be contacted by mobile phone about special promotions and methods to gain additional F.E. Perks in real time.

As a way to further communicate with customers and instill confidence, Family Express has done print and radio advertisements and provided in-store informational cards and brochures. In addition, a social media presence on Facebook and Twitter was established. With over 1,500 "Likes," a recent Facebook post (updated daily) read: "Stop in and grab an apple cider MEGA muffin with your Java Wave and get 3-cents off per gallon of gas when you use your F.E. Perks card!"

"Social Media is developing rapidly and our use of that technology will need to stay on the cutting edge to differentiate us from other retailers," said Nolan adding that Family Express recently created a new position who will manage all aspects of social networking.

For Nolan and the management team, ensuring the apps are working is a continual concern. "We do tests in store on a regular basis. I use my Droid in stores to bring up coupons because I want to see if this application is functioning easily for the consumer," said Nolan. "Convenience is the key to success."

Family Express monitors customer feedback via social networking sites, e-mails and in-store suggestions. Among reasons Family Express selected Centego and GasBuddy was they can scale quickly. "We have received very positive reactions to the application. Customers are sensitive to the price of fuel, and saving at the pump is a real value, plus they can redeem the savings immediately," said Nolan. "We want our customers to know we want their feedback and are listening to them."

Moving forward, Family Express will look to enhance the mobile app platform by adding interactive mobile rewards games, implementing direct mobile couponing function for specific demographics and providing the ability to link a users' debit card to the F.E. Perks card, making it an all-in-one payment option for purchases made at Family Express stores.

"Innovation is a core element in our strategic marketing plan, and each element must be consistently available to every store, every customer, everyday," said Nolan.