CSNews Honors DePinto, Moran & Benefiel at 2017 Hall of Fame Ceremony
Get great content like this right in your inbox.
Subscribe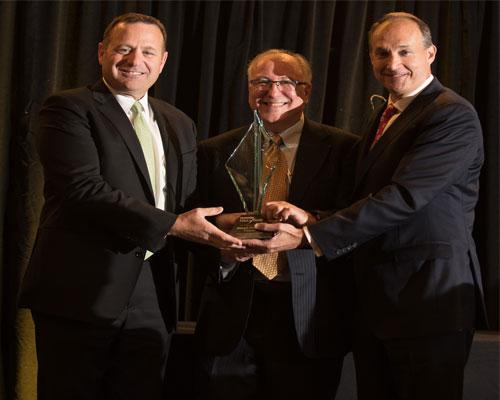 DALLAS — A record crowd of more than 130 retailers and suppliers from the convenience store community gathered in 7-Eleven Inc.'s hometown last week to honor the newest members of the Convenience Store News Hall of Fame and the 2017 CSNews Retailer Executive of the Year.
The 31st annual Hall of Fame induction ceremony recognized the lifetime achievements of Joseph DePinto, president and CEO of 7-Eleven, and Blake Benefiel, director of trade and state relations for Altria Group Distribution Co. In addition, the convenience store industry recognized former RaceTrac Petroleum Inc. CEO Allison Moran as the Retailer Executive of the Year.
The dinner event took place at The Westin Park Central and was sponsored by Altria Group Distribution Co., BIC USA Inc., Campbell Soup Co., Coca-Cola North America, Jack Link's, Logic Technologies, McLane Co. Inc., Motiva Enterprises, R.J. Reynolds Tobacco Co., Ruiz Food Products and The Hershey Co.
In a fun and entertaining evening that CSNews Editorial Director Don Longo said epitomized the collegial spirit of the "convenience store community," several industry luminaries took to the podium to applaud this year's award winners.
Sonja Hubbard, the 2010 CSNews inductee and first woman to enter the Hall of Fame, shared several remembrances of visits to Capitol Hill with DePinto as they worked to reform credit card transaction fees charged to retailers. She also recalled evenings spent with their respective spouses over drinks and karaoke at industry events.
DePinto, who has served as CEO of the world's largest convenience store chain since 2005, was inducted into the Hall of Fame by an industry friend, Jim Dinkins, president of the Minute Maid Business Unit and chief retail sales officer for Coca-Cola North America. Dinkins praised DePinto's style of "servant leadership" and talked about how they forged a lasting friendship when Dinkins led the 7-Eleven team at Coca-Cola. "We found we shared common values and always put the customer first," noted Dinkins.
In his acceptance speech, DePinto credited all 7-Eleven associates and his family (his wife, three sons, daughter-in-law, and parents were all in attendance) for their support. He particularly thanked his parents for teaching him about the importance of integrity, working hard and always doing the right thing.
DePinto became the fourth 7-Eleven executive to enter the Hall of Fame. Former CEO James Keyes was inducted in 2005, and 7-Eleven founders John and Jere Thompson were inducted in 1991.
During his speech, DePinto also noted the coincidence of the Hall of Fame dinner being held just 15 miles from the birthplace of the convenience store industry — "where 'Uncle Johnny' Green had the idea to sell milk, eggs, bread and other staples from the dock of a local icehouse in 1927."
Altria's Benefiel was inducted into the supplier wing of the Hall of Fame by Bob Johnson of Pinnacle Corp., the 2016 supplier Hall of Famer. Johnson talked about Benefiel's contributions to the industry, including his participation in numerous retailer-supplier councils and advisory boards.
He also read several quotes from other industry leaders about Benefiel. "Congratulations Blake on your election to the CSNews Hall of Fame. I personally have appreciated working with you on a number of important industry initiatives and the wise counsel that you've provided," wrote Hank Armour, president and CEO of NACS, the Association for Convenience & Fuel Retailing. "Your recent election to the NACS Supplier Board of Directors is indicative of the great respect that your peers in the industry have for you, your integrity and your leadership."
At the podium, Benefiel deflected much of the credit for his achievement to his Altria associates, whom came out in force to witness their colleague's recognition.
In addition to Hubbard and Johnson, several other past CSNews Hall of Famers were in attendance, including Dave Riser of R.J. Reynolds, Bill Douglass of Douglass Distributing, Pat Cordle of BIC, and Willie Laufer, formerly of Anheuser-Busch.
While the Hall of Fame recognizes individuals for lifetime achievement, the Retailer Executive of the Year award honors an industry leader for recent leadership, business acumen, dedication to the industry, and commitment to community service. Anheuser-Busch Vice President Josh Halpern introduced 2017 Retailer Executive of the Year Moran, praising the culture of innovation in both marketing and product development that she created during her tenure at RaceTrac.
Moran assumed the CEO role at the Atlanta-based convenience store chain in January 2013 and held that position until July 24 of this year. Among many accomplishments, she is credited with spearheading the development of RaceTrac's modern, large-sized store prototype that has been a huge success.
An emotional Moran, who was previously recognized as one of CSNews' Top Women in Convenience in 2014, gave special thanks to her family (her husband and two daughters were in the audience), and noted that during her career at RaceTrac, she "tried to make better everybody's lives that she touched."
For more Hall of Fame coverage, look in the December issue of Convenience Store News.