CSNews Honors Greg Parker as Top Tech Executive
CHICAGO -- Convenience Store News last night honored Greg Parker, president and CEO of Savannah, Ga.-based Parker's, as its 2013 Top Tech Executive. Parker accepted the award at the Technology Leadership Awards Dinner held in conjunction with the CSNews 2013 CIO/Tech Summit.
"Greg Parker has distinguished himself as a technology leader and a trendsetter in our industry," said Don Longo, editor-in-chief of CSNews. "He not only contributes to technology at Parker's, but to the industry as a whole through his innovation and leadership."
The Top Tech Executive award is presented annually to a convenience store executive who demonstrates vision and leads the way for technology solutions that impact the industry as a whole.
"My biggest strength is finding solutions," Parker, a nationally recognized convenience industry leader, said upon receiving the award. "I'm not afraid to challenge people to push the boundaries of technology to find new and innovative solutions to meet the changing needs of our customers."
The Parker's chain, which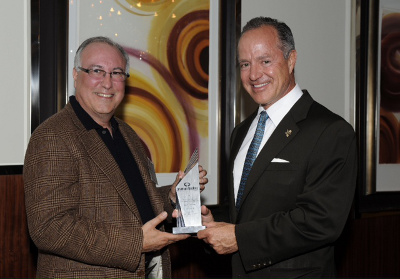 operates 30 c-stores across Georgia and South Carolina, incorporates cutting-edge technology, such as PriceAdvantage, Open Store and PeopleMatter, into its store operations.
In addition, the company's proprietary PumpPal loyalty program has saved customers more than $2.7 million since its inception in 2011. Parker's is also widely considered an industry leader for its Fueling the Community program, which gives back 1 cent of every gallon of gas sold on the first Wednesday of each month to public and private schools in every community where Parker's does business.
"Technology is key to succeeding in the 21st Century marketplace," noted Parker. "It's an important tool that encourages customer loyalty and, in turn, helps forge an emotional connection with consumers."
Along with receiving the Top Tech Executive award, Parker also participated in today's CIO/Tech Summit, which took place at the Hyatt Regency O'Hare in Chicago. The event was sponsored by Acumera, ADD Systems, Heartland Payment Systems and National Payment Card.
For more on Parker and his approach to technology, look in the July issue of Convenience Store News. In-depth coverage of the 2013 CIO/Tech Summit also will be included in the issue.