CSNews Reveals This Year's Top 20 Growth Chains
NATIONAL REPORT -- At this moment, convenience stores represent 34.8 percent of all retail outlets in the United States with their ranks outnumbering drugstores, supermarkets and dollar stores combined. For every one drugstore, there are 3.7 c-stores. For every one supermarket, there are 4.3 c-stores. And for every one dollar store, there are 6.2 c-stores. Some might say convenience stores are taking over.
The c-store domination is being accelerated by companies such as this year's Convenience Store News Top 20 Growth Chains. For the second year, CSNews partnered with TDLinx, a service of Nielsen, to identify those c-store operators (21 in all due to a tie) that added the most convenience stores between Jan. 1, 2012 and Dec. 31, 2012.
TDLinx defines a convenience store as a store that includes a broad merchandising mix, extended hours of operation and a minimum of 500 SKUs. Fueling stations with small kiosk stores do not meet the official definition of a c-store and thus are not reflected in TDLinx's store count figures.
This year's Top 20 Growth Chains, by means of acquisitions, new store construction -- or in the case of the oil companies, extending their branded wholesale network -- added more than 1,700 stores to their portfolios last year. Once again, convenience giant 7-Eleven Inc. led the pack, adding a net 961 locations for a 14.4-percent increase in its U.S. store base.
Impressive growth was also seen by Tesoro Corp., which had the largest percentage increase at 53.3 percent. The company went from 225 stores to 345 -- an increase of 120 locations. Including Tesoro, six of the 21 chains on this year's list posted double-digit percentage increases.
See the chart below for this year's CSNews Top 20 Growth Chains list in its entirety.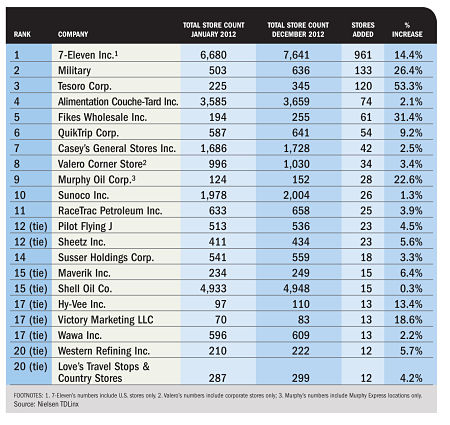 To find out what's driving the growth at these companies, look for the March issue of Convenience Store News.