CSNews Takes Home Top Journalism Award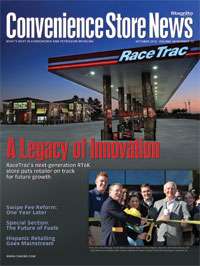 NEW YORK -- Convenience Store News was honored today among the best of the best in the business-to-business industry at the 59th annual Jesse H. Neal Awards ceremony. Often referred to as "the Pulitzer Prize of business media," the Neal Awards recognize editorial excellence in business media and are the industry's most prestigious and sought-after editorial honors.
The October 2012 issue of Convenience Store News won the Best Single Issue category for publications with annual advertising revenues between $3 million and $7 million. The mammoth, 200-plus-page issue featured a cover story on CSNews' Retailer Innovator of the Year RaceTrac Petroleum; an in-depth series on the future of fuels in the petroleum retailing industry; several case studies on leading retailers such as Wawa Inc., Valero Corner Store and Cumberland Farms Inc.; category management features on tobacco, the cold vault, and candy and snacks; plus numerous other special reports and features.
This marks the second time that the CSNews editorial staff has taken home a Neal Award for Best Single Issue of a Magazine. In 2008, the publication's October 2007 issue earned the top honor.
"I've said it before and I'll say it again, we have the best team of journalists covering the convenience retail industry, and I couldn't be more proud of them all," said CSNews Editor-in-Chief Don Longo.
CSNews was also one of four finalists recognized in the Best Profile category for its August 2012 "A Day in the Life of Maverik Inc." cover story. Editors from CSNews spent two days this past summer at Maverik's North Salt Lake City headquarters seeing how the company lives up to its motto, "Adventure's First Stop," through the eyes of nine employees.
Established in 1955, the Jesse H. Neal Awards are presented by ABM, the Association of Business Information & Media Companies.