CST's Kim Bowers Among Most Powerful Women in Business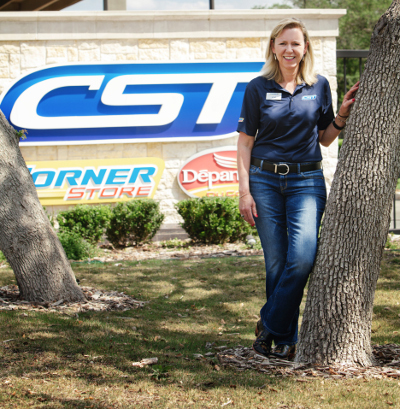 SAN ANTONIO -- Five months after locally-based CST Brands Inc. spun off from Valero Energy Corp., Kim Bowers has taken her place among the top women executives in the country.
Fortune named Bowers, chairman, president and CEO of CST Brands, one of its 50 Most Powerful Women in Business. She ranks No. 38 in her first appearance on the list.
In December 2012, Valero appointed Bowers to executive vice president and retail president of the company's convenience store division in the United States and Canada. She previously served as Valero's executive vice president and general counsel, as CSNews Online previously reported. Approximately six weeks before the May 1 spinoff date, Valero announced Bowers would become CEO of CST Brands when the separation was completed.
The newly formed company now operates nearly 1,900 convenience stores and gas stations, including 1,040 in the U.S. Its retail locations maintain the Corner Store banner.
Bowers is not the only woman executive appearing on this year's list. PepsiCo Chairman and CEO Indra Nooyi retained her No. 2 spot on the Fortune 50 Most Powerful Women list, while Mondelez International Chairman and CEO Irene Rosenfeld moved to the No. 6 spot, down from No. 4 last year.
"It's such an honor to be included in this list with inspirational women like Ginny Rommety at IBM, Indra Nooyi at PepsiCo, and Sheryl Sandberg at Facebook," Bowers said. "It's also an honor and a privilege to lead our incredible 12,000 team members as we grow and strengthen CST Brands."
According to CST, the company's strategy has been to build more new stores from the ground up, allowing for larger, more spacious stores with award-winning interior design and a larger selection of hot and cold food and beverages.
"The future of convenience retailing is inside the store. Our focus at Corner Store is to constantly innovate in terms of our food offerings and product mix," Bowers stated. "We are looking to craft more products that folks can't find anywhere else and, at the same time, provide convenience and value to our customers."
Bowers is a graduate of the University of Texas School of Law. She spent more than 15 years at Valero prior to taking on her role at CST, most of that time as executive vice president and general counsel.
In her first 100 days as CEO, Bowers visited 100 stores to help her understand the business from the ground up. She served coffee, baked kolaches and even took out the trash. To keep management grounded, she requires them all to do the same through a program called Corner Store Time. As part of the program, all employees who work above the stores at CST service centers must spend at least two days per year working in one of CST's stores.
"When you spend enough time in a store, you see and hear great ideas," Bowers said. "We're not just selling things, we are selling people. Yes, you have to have the right merchandise. But it doesn't move off the shelves if you don't have good folks in the stores. It takes great people to run great stores, and we are fortunate to have both."
In addition, Bowers has also made community service a priority for the new company, organizing diaper drives for women's shelters and volunteer opportunities for team members at nonprofit organizations, as well as raising money for flood and wildfire victims in Colorado and victims of a train derailment in Quebec earlier this year. Since 2009, Bowers has chaired the United Way of San Antonio & Bexar County's Partnership for Community Change. Each year, Corner Stores across the nation collect millions of dollars for the Children's Miracle Network and Muscular Dystrophy Association, while stores in Canada raise money for the Breast Cancer Foundation.