Cumberland Farms Joins GasBuddy to Host First TANKS-giving
Get great content like this right in your inbox.
Subscribe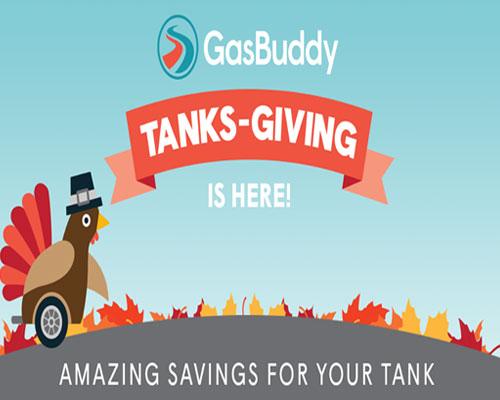 BOSTON and WESTBOROUGH, Mass. — With Thanksgiving being one of the busiest travel holidays, Cumberland Farms and GasBuddy have teamed up to host the first TANKS-giving at the retailer's Plymouth, Mass., location.
During the event, GasBuddy and Cumberland Farms will gift motorists who have the GasBuddy app downloaded on their smartphone up to $20 worth of fuel per vehicle.
The TANKS-giving event will take place on Wednesday, Nov. 15 from 9 a.m. to 11 a.m., or until supplies last. GasBuddy will reveal the exact Cumberland Farms location the morning of the event via the GasBuddy app and on the company's social media channels.
"At Cumberland Farms, we know firsthand how busy the roads can get ahead of Thanksgiving," said Cumberland Farms CEO Ari Haseotes. "As Cumberland Farms originated in New England, Thanksgiving is a holiday close to our heart. We are so grateful for our loyal customers, and there is no better way to thank them than to ease their holiday stress this year with GasBuddy by helping to fill up their tanks before they hit the road.
"We also encourage our customers to sign up for SmartPay which saves members 10-cents on every gallon of gas, everyday at all Cumberland Farms locations," he added.
The TANKS-giving event is based on GasBuddy's successful Tank Takeover series that have taken place in various cities across the United States, including Charlotte, N.C.; Denver; Houston; Los Angeles; Minneapolis and San Diego.
TANKS-giving also kicks off GasBuddy's national Thanksgiving promotions to provide U.S motorists with free or discounted gasoline across the country in other cities also named Plymouth. On Nov. 15, Pay with GasBuddy users will get an additional 1-cent discount — on top of their regular Pay with GasBuddy discount — when they fill up in any incorporated U.S. municipality with the legal name Plymouth.
Based in Westborough, Cumberland Farms operates nearly 600 convenience stores across eight states.
GasBuddy is a smartphone app with 70 million downloads. It is the leading source for the most accurate, real-time fuel prices at more than 140,000 gas stations in the U.S, Canada and Australia.