Cumberland Farms Teams Up With 4-H to Feed the Hungry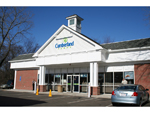 FRAMINGHAM, Mass. -- For the third consecutive year Cumberland Farms teamed up with Massachusetts 4-H to collect food for the hungry throughout the month of November.

The statewide food drive will help to put food on the table for struggling people in Massachusetts; the USDA reports that there are more than half a million people in the state that need the aid.

"We are proud to sponsor the young people of 4-H who are working hard to assist those families in need," Ari Haseotes, president of Cumberland Farms retail division said in a statement. Support of the 4-H Massachusetts Food Drive is part of the company's Corporate Giving Program.

The public can contribute non-perishable food at any Cumberland Farms stores in the state. The 4-H volunteers hope to collect 12,000 pounds of food for food pantries in their local communities across Massachusetts, the company stated.