Dispensed Cold Brew Becoming a Staple Coffee Product
Get great content like this right in your inbox.
Subscribe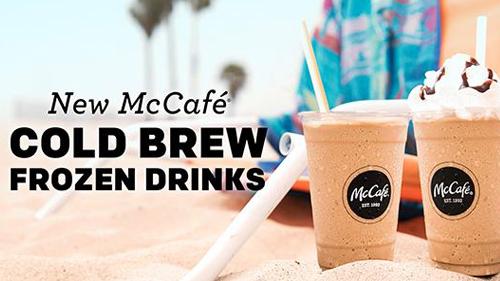 ROCKVILLE, Md. — More foodservice retailers are cooling down their coffee bars.
Following the growth of ready-to-drink (RTD) coffee and iced coffee, cold brew coffee is becoming a common sight across foodservice platforms, according to a new Packaged Facts  report on U.S. market trends and opportunities.
Offering cold coffee options takes the beverage beyond its traditional morning daypart, the market research firm reported. Specifically, cold brew promises a smoother taste and lower acidity, and brings premium positioning, higher price points and younger consumers.
While cold brew has been known for being the "darling of independent coffeehouses," the dispensed cold beverage has become a staple of convenience stores and restaurants, the report explained.
Last month, McDonald's added cold brew frozen options to its McCafé lineup — Cold Brew Frozen Coffee and Cold Brew Frappé. The introduction came on the heels of McDonald's jump into the espresso category last September as part of a "McCafé relaunch," according to Forbes magazine.
By adding cold brew coffee, the quick-service restaurant chain is leveraging a major driver of this latest iteration of coffee culture. Total U.S. sales of refrigerated cold brew coffee grew 460 percent from 2015-2017 to hit an estimated $38.1 million this year, the magazine reported, citing numbers from Mintel.
Elina Veksler, senior director of McCafé Menu Innovation, said the new cold brew drinks address what customers want — variety, quality and consistency. 
"They are looking for new choices," she told Forbes. "Different customers have different needs — energy, refreshment, relaxation and indulgence. Unpacking those is key."
Mainstay suppliers are also adding cold brew beverages to their portfolios: Blue Bottle Coffee and Chameleon Cold-Brew are under Nestlé's umbrella, and Stumptown Coffee Roasters is part of JAB Holding Co.
According to the Packaged Facts report, the moves give the super-premium brands "the marketing and distribution muscle needed to push them into the mainstream, joining industry leader Starbucks and a host of other emerging brands in a fast-moving stream that is crowding the RTD cooler."