Downtrading, Consumer Conversion to Alternative Products Heightens Cigarette Category Competition
Get great content like this right in your inbox.
Subscribe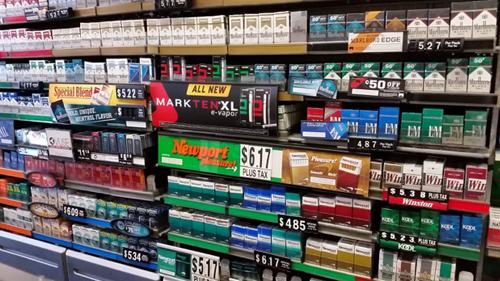 NEW YORK — Competition on the backbar is ticking up, and it is particularly being felt in the cigarette segment as tobacco companies fight to grab their piece of the shrinking pie.
The latest Tobacco Talk survey by Wells Fargo Securities LLC found conversion to reduced-risk and vapor products is picking up as the technology continues to improve, including the ongoing success of JUUL, which "retailer contacts are now starting to see having an incremental impact on in-store sales," according to Bonnie Herzog, managing director of tobacco, beverage and convenience store research at Wells Fargo Securities.
Many adult smokers are also moving to dual usage.
In addition, retailers are seeing adult tobacco users trade down to deep discount and fourth-tier brands as price gaps widen. Notably, the survey found fourth-tier "is crushing premium," Herzog said.
Tobacco Talk surveys retailers and wholesalers representing roughly 40,000 convenience stores in the United States.
The survey respondents also noted cigarette manufacturers increased promotional activity alleviate share pressures.
According to Herzog, other key takeaways on overall combustible trends from Q2 Tobacco Talk survey include:
The adult tobacco consumer is relatively stable, but weather, higher fuel costs and increased conversion to vapor products have had the most impact on sales and traffic trends.

Retailers expect cigarette volume pressure to continue in 2018 led by increased conversion to vapor.

The next cigarette list price increase is expected in September or very early October.
As for smokeless, reduced-risk and vapor products, key takeaways include:
Retailers expect smokeless tobacco industry volumes to increase 2.5 percent in 2018.

Retailers are decidedly more bullish on the e-cigarette segment, and specifically on JUUL, and expect category sales to grow more than 60 percent.

Retailers remain broadly optimistic about reduced-risk products, with approximately 80 percent planning to carry iQOS in their stores when commercially available and approximately 40 percent are planning to allocate additional shelf space to it.