02/08/2018
Dunkin' Unveils Three-Year Blueprint for Growth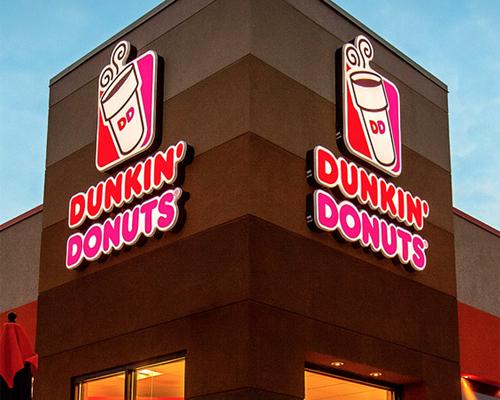 CANTON, Mass. — Dunkin' Brands Group Inc. revealed a three-year growth plan for the Dunkin' Donuts and Baskin-Robbins brands at its 2018 Investor & Analyst Day.
The strategic plan's goal is to grow revenue by low- to-mid single-digit percentages and operating income by mid-to-high single-digit percentages.
In order to achieve these targets, Dunkin' Brands intends to position its core Dunkin' Donuts U.S. brand to compete even more effectively in the coffee and beverage segment, driving profitable sales growth and further expanding westward across the country, according to the company.
Dunkin' Brands plans to add approximately 1,000 net new locations in the United States by the end of 2020, with more than 90 percent built outside the Northeast. Additionally, it plans to eventually have more than 18,000 Dunkin' Donuts restaurants in the U.S.
"Since our initial public offering in July 2011, Dunkin' Brands systemwide sales have grown by greater than 40 percent and total global points of distribution have grown by more than 4,100 units. In that time, we have also returned $2 billion in capital to shareholders through share repurchases and dividends," said Nigel Travis, Dunkin' Brands chairman and CEO. "We are proud of these accomplishments but also realize that if we are to compete even more effectively within the coffee and breakfast segment, we must make further progress against the execution of our multi-year Blueprint for Growth plan, which is designed to transform Dunkin' Donuts U.S. into the most-loved beverage-led, on-the-go brand.
"The continued execution of our Blueprint combined with our key value drivers — a tremendous asset-light model with low capital intensity; a history of returning capital to shareholders; and an ability to significantly expand our Dunkin' Donuts U.S. footprint — should fuel strong growth and shareholder value creation for Dunkin' Brands for many years to come," he added.
Dunkin' is particularly focused on maintaining and increasing Dunkin' Donuts U.S. share of the morning daypart before 11 a.m., which accounts for approximately 60 percent of its systemwide sales. It also seeks to unlock afternoon growth opportunities through menu innovation and national value offers. In 2017, the morning sales performance for Dunkin' Donuts U.S. was positive year-over-year and increased sequentially each quarter of 2017, according to officials.
Other planned menu innovations include new beverages; new breakfast sandwiches; craveable donuts on seasonal occasions; removal of artificial dyes from donuts; and a series of Dunkin' Deals value offers.
Initiatives to improve Dunkin's convenience include:
DD Perks loyalty: The loyalty program added more than two million members during 2017, bringing total membership to approximately eight million members.
 
Tender agnostic test: In the second half of 2018, Dunkin' plans to test "tender agnostic" participation in its loyalty program, allowing members to earn points using all forms of tender, including their DD card, credit, debit or cash.
 
Delivery and catering: In 2018, Dunkin' is testing a newly-built digital catering platform in several key markets. It also plans to continue testing and expanding third-party delivery options with the goal of creating a combined catering/delivery platform in 2019.
 
Innovative drive-thru technology: More than 75 percent of new restaurants are expected to have a drive-thru lane. Additionally, the new NextGen restaurant design provides a dedicated mobile-order drive-thru lane.
Dunkin' is also committed to growing accessibility to its brand outside of its restaurants, and has expanded its Dunkin' Donuts-branded consumer packaged goods business from approximately $400 million in retail sales in 2014 to nearly $900 million by the end of 2017.
As the in-restaurant experience is key to increasing share of market and comparable store sales, initiatives for improved restaurant excellence include: menu simplification; continued evolution of its on-the-go mobile ordering platform; upgraded point of sale and back-office software systems; and new employee training tools.
"Dunkin' Donuts U.S. is well on its way to becoming America's most-loved beverage-led, on-the-go brand. Our Blueprint for Growth, which is rooted in extensive consumer research, is focused on five main areas that we believe will collectively grow top- and bottom-line franchisee profitability: menu innovation; unparalleled convenience driven by digital leadership; broad accessibility to our brand through restaurant growth and new channels for our branded packaged goods; restaurant excellence; and brand evolution," said David Hoffmann, president of Dunkin' Donuts U.S.
"Very importantly, collaboration with our franchisees has never been stronger. Together with them, we are laser-focused on bringing about transformative change at Dunkin' that both builds on our heritage yet also updates our offerings and in-store experience to keep our brand modern, relevant, and positioned for long-term growth," he noted.
Canton, Mass.-based Dunkin' Brands Group's 100 percent franchised business model includes more than 12,500 Dunkin' Donuts restaurants and nearly 8,000 Baskin-Robbins restaurants.