Energy-Efficient Equipment Dominates 2013 NAFEM Show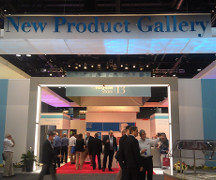 ORLANDO, Fla. – The 2013 NAFEM Show kicked off yesterday with more than 500 foodservice equipment exhibitors filling over 760,000 square feet in the Orlando Convention Center. Distributors, manufacturers, consultants, end users and other attendees at the event, organized by the North American Association of Food Equipment Manufacturers (NAFEM), represent all areas of the foodservice industry, from convenience stores to fine-dining restaurants.
CSNews Online made the rounds on the expo floor, checking out the latest and greatest equipment geared to the convenience channel, which has been rapidly increasing its presence and impact on the overall foodservice industry. Energy efficiency, water savings and minimal countertop footprints were among the attributes being touted in the equipment designed with the c-store market in mind. A number of auto-timed, mix-your-own milkshake and smoothie blenders were also on display.
A trip to the "WHAT'S HOT! WHAT'S COOL!" New Product Gallery in the center of the exhibit hall was also a must-see. Here, NAFEM Show attendees find forward-thinking products that demonstrate tangible improvements to operations. The gallery is divided into six groups: Primary Cooking; Prep and Warewashing; Refrigeration and Ice; Smallwares/Tabletop and Serving; Display/Transportation/Storage; and Technology. To be included, products were judged on aesthetic impact, cost reduction, new foodservice applications and additional benefits.
The NAFEM Show continues today and tomorrow. Exhibit hall hours run today from 10 a.m. to 5 p.m., and tomorrow from 10 a.m. to 4 p.m.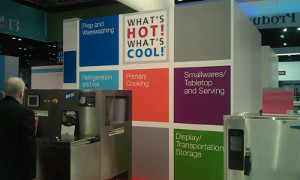 This morning, Danny Meyer, CEO of Union Square Hospitality Group, served as the featured speaker. The first 200 attendees at his session received a free copy of his New York Times bestseller, "Setting the Table," which examines the power of hospitality in restaurants, business and life. Meyer is known as the real deal when it comes to hospitality. He's opened 28 restaurants around the world and makes it a point to incorporate a strong sense of hospitality in all of his restaurants despite the fast paced nature of industry.
To conclude the show tomorrow night, Jimmy Buffett will perform at the All-Industry Celebration event.
To keep up with the happenings at the show, visit www.thenafemshow.org or download The NAFEM Show 1 mobile application.