Federal Criminal Probe of Pilot Flying J Is Ongoing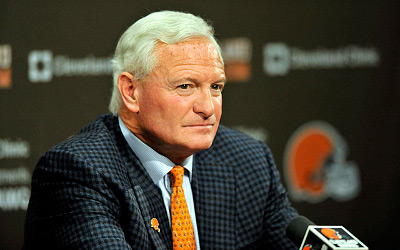 Jimmy Haslam
CLEVELAND -- The federal probe into allegations of wrongdoing at Pilot Flying J is continuing as CEO Jimmy Haslam again stressed that the Knoxville, Tenn.-based company did "nothing wrong."
Haslam is also the owner of the National Football League's Cleveland Browns. He addressed the ongoing criminal investigation during a Monday team press conference, according to a report by ESPN.
"I think we've said all along and I'll say it again: This is embarrassing for our family, our company and I apologize (for) any cloud it has put over the City of Cleveland or the Browns," he said. "Nobody feels worse about that than I do."
Pilot Flying J's troubles began when federal officials raided its headquarters on April 15 as part of an investigation into allegations of fraud in its fuel rebate program. In the ensuing eight and half months, several former employees have pleaded guilty to criminal charges and the company has reached a class-action settlement to resolve the 20-plus lawsuits filed against it since April, as CSNews Online previously reported.
ESPN reported that more indictments are expected in early 2014.
"The company has done everything we said we would do," Haslam said at Monday's press conference. "We've paid everybody back with interest. We've dealt with the individuals who made some very poor decisions. We've resolved a majority of the lawsuits. We are working closely with the government to work through these issues.
"We are confident we will have a successful, long-term outcome. Has it been a distraction for me in terms of time to spend here over the last six months? Yes. Are we starting to move out of that phase? Yes," he added.
Haslam also addressed the possibility that he would be indicted as a result of the probe.
"I think the focus needs to be on the Browns and football," Haslam said, "but let me just say this: I think we accept responsibility for what happened at our company as the person at the top. I think we've maintained all along that we have not done anything wrong and we are confident there will be a successful outcome."
Family-owned Pilot Flying J has 650 travel center locations across the United States and Canada.