Finding the Balance Between Fresh & Fast Food
Get great content like this right in your inbox.
Subscribe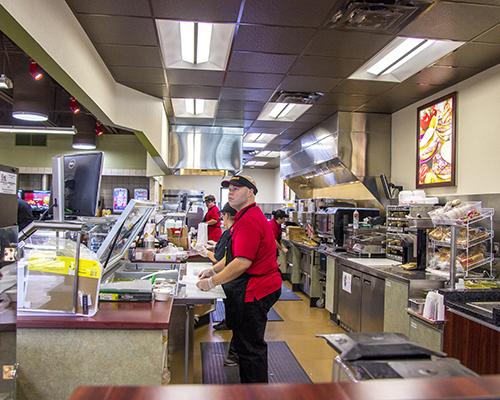 NATIONAL REPORT — At lunchtime, a hungry office worker gets into his car to pick up lunch at a convenience store. Like many Americans, he's within minutes of several c-stores that offer foodservice programs, which gives him options, but presents him with multiple questions.
Does he want something that can be extensively customized, or an item that is already hot and waiting? How long is he willing to wait for something made to order? If he wants something fresh, what exactly does that mean?
Convenience store operators, as they build up their foodservice programs, are wrestling with the same questions. What do they want to offer their customers, and what kind of foodservice program do they want to be?
The answers that retailers give to hundreds of questions will shape their offering, but as convenience foodservice evolves and individual retailers are able to create more advanced programs, one key consideration boils down to the balance of fresh and fast.
Research shows again and again that consumers value freshness, yet retaining speed of service is fundamental to what the convenience retail channel is known for.
The point at which c-stores land on that sliding scale affects not just the individual menu items they offer, but also what type of prepared food program they offer — made-to-order or grab-and-go — and what degree of customization is built into it.
C-stores need to live up to the standards they set, whatever those standards are, to become a desirable foodservice destination.
Industry veteran and consultant Jerry Weiner discussed this issue during his presentation at the 2018 NACS Show education session, "Is Made to Order Really For Me?", which sought to help c-store operators decide whether made-to-order or grab-and-go is the right fit.
"This is your program. This is your brand," Weiner said. "What you deliver and execute is what people will think of your brand."
It's easier said than done. So, how do retailers decide what to do?
In the fresh vs. fast debate, one question is obvious: How is "fresh" defined?
For certain products, it doesn't necessarily mean that every ingredient in a product is equally fresh, according to Ryan Krebs, director of foodservice at York, Pa.-based Rutter's, which operates 70-plus stores in Pennsylvania and West Virginia.
"The perception of fresh is what people are really after, and creating that is critical," he said.
This doesn't mean tricking customers or implying things about food quality that aren't true. However, for example, not every hamburger must be made with never-frozen beef. A frozen burger patty can be combined with fresher ingredients that have a shorter shelf life, such as bread and vegetable toppings, to offer freshness in a product that still gets into a customer's hands quickly.
Of course, having the quality of freshness means nothing if customers don't believe it. Incorporating "fresh" as a key point of marketing is one way to earn trust.
"Presentation, labeling and packaging are the keys to the fresh presentation," said Frank White, director of foodservice for Des Moines-based Yesway, which operates 150 convenience stores in eight states. "But the product quality has to be there."
Along with a continual focus on improving ingredients, Yesway is currently assessing different "carrier solutions," such as bread, wraps, tortillas and bowls, that are designed to maintain texture better than typical sandwich bread does.
THE NEED FOR SPEED
At a certain point, a convenience store's menu may become as optimized as it can be, with no further product changes able to be made without compromising freshness. From there, the only option is to deliver food as fast as possible.
Krebs points to a single factor as making the biggest difference in being able to quickly prepare fresh orders, even for more complicated items: training.
He recommends that c-stores always require a minimum level of training, even for items that only require pressing a button to begin cooking. Foodservice leadership should also solicit feedback from team members who actually prepare the food.
"Even though we vet at our level, there's nothing better than having experts at store level tell you exactly the way it feels to them. By the time it hits kiosks, it's a perfectly executed system" he said.
While it doesn't take absolute top-tier equipment to build a quality program, the right kitchen technology can help, as well. Yesway is investing in this area.
"We are investing in kitchen technology that can be multipurpose — rapid heat ovens, humidified warmers, tortilla/panini presses — and can see the product through multiple dayparts," White said. "Our Culinary Innovation Center under Chef Carlos Acevedo will allow us to really fine-tune the processes for the best consumer experience."
Industry experts agree that overall, as consumers have become more accepting of c-store foodservice as an appealing option, they have also grown more willing to wait for their orders — but there is a limit, which varies by daypart and by customer.
"Guests will wait for the right freshness, taste and quality, but why should they?" asked White. "I would say the order to checkout timeline should be limited to three to 10 minutes, based on complexity."
Krebs concurs, citing an average window of four to five minutes at Rutter's, with some products able to be ready in two minutes and others in six or seven minutes.
Lunchtime is particularly challenging for c-stores not just because of the increased foot traffic, but also because most lunch hour customers are pressed for time and can't afford a lengthy wait before they must get back to work. Dinnertime customers are typically more able to wait, which allows retailers to feature items in this daypart that take more prep time.
Click below to download our full report, "Finding the Balance Between Fresh & Fast."