First U.S. Wine Vending Machines Launched in Pa.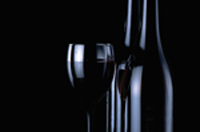 HARRISBURG, Pa. -- Despite the state's complicated liquor laws, Pennsylvania recently unveiled the country's first wine "kiosks." They simply require potential customers to swipe their driver's license, look into a surveillance camera and blow into a breath sensor.

According to an Associated Press report, if the first machines are successful in their test run inside two grocery stores, the state Liquor Control Board could place the high-tech wine vending machines in about 100 others. Numerous attempts at reforming the state's post-Prohibition liquor laws have been unsuccessful.

The liquor board has tried to be more consumer-friendly in recent years, including opening 19 full-service state stores in supermarkets. The board touts the kiosks as another step toward modernization -- "an added level of convenience in today's busy society," liquor board Chairman Patrick Stapleton said in a statement.

Craig Wolf, president and CEO of the Wine & Spirits Wholesalers of America, questioned the machines' efficacy in preventing sales to minors. Keith Wallace, president and founder of The Wine School of Philadelphia, described the kiosks as well-intentioned failures with limited selections and overtones of Big Brother.

The machines are about the size of four large refrigerators, though the wines are kept at room temperature. An ATM-type device sits at one end. A customer chooses a wine on a touchscreen display, swipes an ID, blows into an alcohol sensor (no contact with the machine is required) and looks into a surveillance camera. A state employee in Harrisburg remotely approves the sale after verifying the buyer isn't drunk and matches the photo ID.

State officials say the process takes 20 seconds. The kiosks only take credit or debit cards, and they're closed on Sundays and holidays. A "convenience fee" of $1 would be added after the pilot phase.

The machine already received a warm reception at a Giant grovery store, according to the AP.