French Fry Burger Headlines Burger King's Fall Menu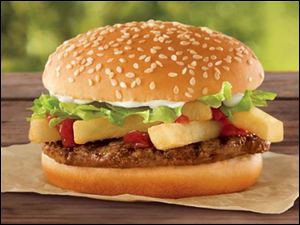 French Fry Burger
MIAMI -- Burger King Worldwide Inc. revealed its fall menu lineup, which includes the new French Fry Burger, available for $1 on its value menu, and the return of the Chicken Parmesan Sandwich. The fast-food chain will also continue to offer Buffalo Chicken Strips through the end of October, based on the item's successful summer launch.
"At Burger King each season, we look to provide our guests with something new, as well as bringing back old favorites. This fall, we have a perfect combination of both. We are reintroducing the Chicken Parmesan Sandwich -- back by very popular guest demand -- and simultaneously sharing new twists on American classics with our French Fry Burger," said Eric Hirschhorn, chief marketing officer, North America. "What's more American than burgers and fries? Since the introduction of our world-famous Whopper sandwich in 1957, we've seen our guests putting fries on our burgers and with that insight in mind, the French Fry Burger was created -- a perfect pairing of the two -- at a great price."
The full descriptions of the fall menu items are:
French Fry Burger — A savory, flame-broiled beef patty topped with French fries, lettuce, ketchup and mayonnaise on a warm toasted sesame seed bun. Available Sept. 1.
 
Chicken Parmesan Sandwich — A premium white meat Tendercrisp chicken fillet breaded with homemade seasoning and topped with marinara sauce and melted parmesan cheese, on a warm, toasted, artisan-style bun. Available now through the end of the year.
 
Buffalo Chicken Strips — Premium white meat chicken battered in a seasoned homestyle breading, then tossed in a hot and spicy buffalo sauce. Available now through Oct. 27 in three-piece and five-piece servings and nicely paired with ranch dressing.
Burger King also announced that it is expanding its BK Delivers program to restaurants in Minneapolis, Minnesota and Spokane, Wash. BK Delivers allows guests in the delivery zone to customize and order their Burger King favorites by visiting BKDelivers.com from a computer or mobile phone, or by calling toll free 1-855-Order-BK. Burger King uses proprietary thermal packaging technology to deliver hot food that is hot and cold food that is cold. The system remembers guests' orders for one-touch ordering with each subsequent order. The minimum food order is $10.
"BK Delivers is already performing well in Boston, New York, Miami, Houston, Los Angeles, Chicago, [the] San Francisco Bay Area, Las Vegas, Sacramento, greater Washington, D.C., Phoenix, Salt Lake City and Denver. As its popularity has grown, we have seen an increasing demand for the program in other markets," said Petru Pusta, director of non-traditional channels and BK Delivers at Burger King Worldwide. "This expansion was an easy decision as both Minneapolis and Spokane have some of our most loyal guests and the Burger King brand is excited to offer them the opportunity to enjoy the food they love, delivered to them in the comfort of their home, dorm or office."
Currently, Burger King has one delivery restaurant live in the Minneapolis area serving Hiawatha, Minnehaha, Hale, Page, Nokomis, Powderhorn, Cooper, Longfellow and Corcoran. In Spokane, one live delivery restaurant serves Town and Country, Nevada/Lidgerwood, Country Homes and northwest Spokane. These initial locations will serve as a training ground for each of the markets, allowing operators to learn the BK Delivers system and train crew members prior to expanding the program to other locations, Burger King said.
Two more Spokane locations are planned to open within the next two to three weeks and will serve Gonzaga University, Spokane, Spokane Valley, Opportunity, Greenacres, Liberty Lake, Veradale and Dishman.
Customers who want to know when BK Delivers will serve their area can visit BKDelivers.com to log their zip code and add their e-mail address to receive an alert when the program arrives.