Fresh & Easy Has Most Greenchill Certifed Stores in the Country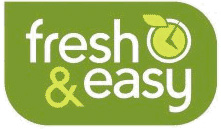 EL SEGUNDO, Calif. -- Fresh & Easy Neighborhood Market added four more GreenChill certified stores this year, including its newest, a Gold certified store in Oceanside, Calif., the company reported.
GreenChill certification is awarded by the U.S. Environmental Protection Agency's (EPA) GreenChill Partnership for stores meeting tough benchmarks for cutting emissions that harm the earth's protective ozone layer and contribute to global warming.
Fresh & Easy opened its first GreenChill certified store in September 2010, and now has a total of eight stores currently certified through the program -- the most of any grocer in the country. Only 45 of the nation's more than 35,000 grocery stores have received GreenChill Store Certification awards.
"The fact that Fresh & Easy has received the most GreenChill awards for its stores in the nation speaks volumes for the company's environmental commitment," Keilly Witman, manager of EPA's GreenChill Partnership said in a released statement. "We're happy to continue working with Fresh & Easy on bringing even more of its stores into the GreenChill program."
In addition to Fresh & Easy's efforts to reduce refrigerant emissions, the company also stresses energy efficiency. Energy efficient characteristics of the company's refrigeration units include:
Energy efficient doors on freezer and dairy cases
Triple-pane glass with an anti-fog coating on refrigerator doors, eliminating the need for door heaters for icing or fogging
Night curtains on refrigerators to conserve energy while keeping product at the appropriate temperature when stores are closed
LED lighting in all chilled cases
"We've worked hard to be thoughtful in the impact we have on the environment and we're excited to continue to innovate in this area," said Fresh & Easy CEO Tim Mason. "On average, our stores use 30 percent less energy than a typical supermarket, which not only helps the environment, but also keeps our prices low so our customers can continue to save money."