FriendShip Launches Banquet to Recognize Top Team Members
Get great content like this right in your inbox.
Subscribe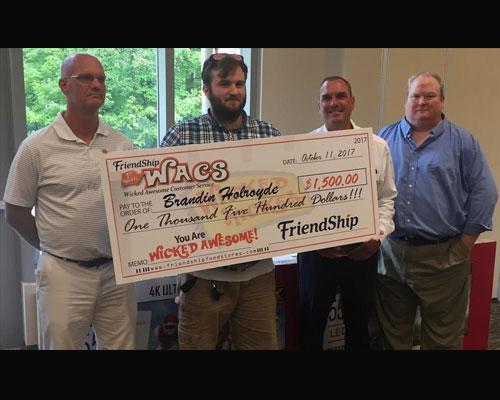 FREMONT, Ohio — FriendShip, the retail division of Beck Suppliers Inc., recognized its top team members at the inaugural WACS Banquet.
WACS — which stands for "Wicked Awesome Customer Service" — is the company's customer service initiative. It recognizes employees for their efforts toward delivering superior customer service.
Nearly 100 employees were honored at the WACS Banquet held Oct. 11, at the Neely Center at Terra State Community College in Fremont.
"Throughout the year, as employees demonstrated exceptional customer service skills in various areas, they would earn a 'Wicked Ticket' toward various prizes to be awarded at the banquet," explained Kevin Campbell, director of marketing for Beck Suppliers. "Earning a Wicked Ticket became your invitation to the banquet. The more tickets an employee earned the more chances for prizes."
Tickets were awarded to employees who achieved a high score on monthly Mystery Shops, for display sets, designated sale items and incentives, as well as district nominations.
A total of 127 tickets were awarded with a prize for each ticket. The tickets were drawn in a reverse raffle format where the final winner won $1,500.
The WACS employee recognition event aligns with a broader cultural enhancement program FriendShip launched earlier this year in May, a Great Place to Work. The initiative identifies how the fourth-generation family-owned business could become an employer of choice, the company stated.
"A lot of companies talk about their employees being their greatest asset, but we have always believed this whole heartedly," said Brian Beck, senior vice president of FriendShip. "Our Great Place to Work initiative has brought together a cross section of our team members including cashiers, store managers and corporate staff to identify and implement ways to make a career at FriendShip and Beck Suppliers special and rewarding."
Gold sponsors for the WACS Banquet included: The Coca-Cola Co., H.T. Hackney, Lynco Products, M&M'S Mars, Monster, Pepsi and R.J. Reynolds. Silver sponsors were: Carlin O'Brien Batson and Universal Sales Inc.
Fremont-based Beck Suppliers is a family-owned and –operated retail and wholesale petroleum marketer that distributes Marathon, Sunoco, BP and Shell motor fuels to independent retailers, as well as to its company-operated FriendShip store locations.