Gasoline Retail Prices Fall Again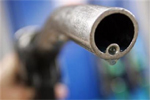 NEW YORK -- U.S. gasoline prices have fallen more than seven cents per gallon in the past two weeks, to the lowest average since February -- and lower demand in September is expected to keep prices steady, according to a CNN report.

Quoting the latest Lundberg Survey, CNN reported the average price of self-serve regular gasoline was $2.70 per gallon, down 7.54 cents since the last survey, conducted two weeks before.

Survey publisher Trilby Lundberg told CNN gasoline prices were catching up to a decrease in crude oil prices. "Absent any upset in the price of crude, [gasoline] prices should see little change or even a small drop," Lundberg told the news organization.

With September marking the beginning of what is traditionally a time of lower gasoline consumption, street prices should remain steady if there are no large fluctuations in crude prices, she said.

The highest street prices were found in San Francisco, where the average price was $3.13 per gallon. The lowest average, $2.39, was found in St. Louis.

At the same time, The Associated Press reported consumer spending rose in July at the fastest pace in four months, helped by a jump in demand for automobiles.