06/21/2018
Gauging Momentum: E15 Sales Strong & Growing
The second in a six-part series about the benefits of E15  
"The footprint of E15 continues to expand, with sales of E15 on the rise and flourishing over the past year."
That quote from Mike O'Brien, vice president of market development for Growth Energy — the leading biofuel trade association representing ethanol producers and supporters in the United States — shows just how far the industry has come where acceptance of biofuels is concerned.

Just what's fueling the biofuel flame? The number of vehicles that can use E15, plus consumers' changing perceptions of the fuel are two driving factors, industry experts say.

"When E15 fuel entered the market in 2010, it was approved for use in vehicles 2001 and newer. Today, 2001 and newer vehicles represent more than 90 percent of cars on the road," O'Brien says.

Those numbers are significantly impacting sales growth. One year ago, consumers had driven 1 billion miles on E15; five months later, they had logged another billion miles using the fuel; and today, that number is at 4 billion miles and growing.

"E15 is experiencing tremendous growth, both in terms of retailers offering it at their convenience stores and consumers reaching for it at the pump," O'Brien says.
More Retailers Respond to Demand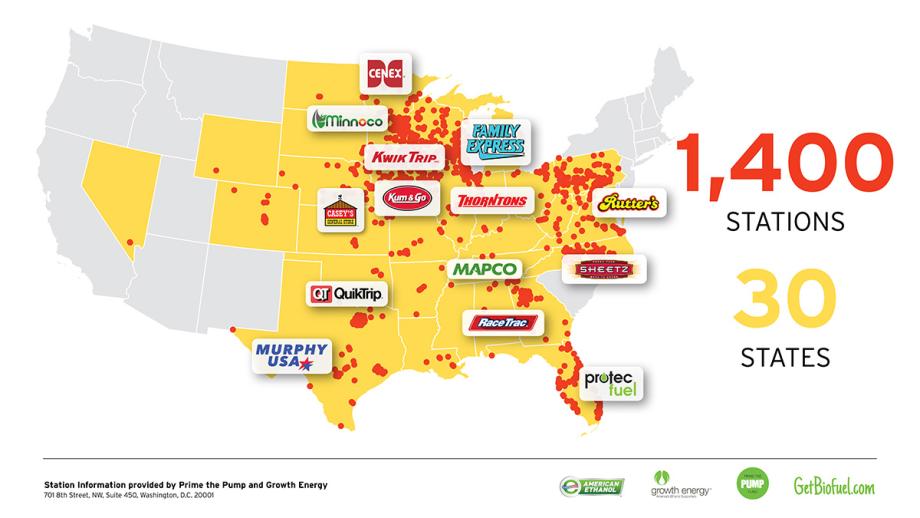 The number of fuel retailers carrying E15 is increasing at a pretty quick clip.
Growth Energy and Prime the Pump, an effort that helps fund infrastructure development, currently work with 13 of the largest independent U.S. retail chains to offer E15 at various locations. Those chains include Sheetz, Kwik Trip, Minnoco, Kum & Go, Thorntons, Casey's General Stores, QuikTrip, Family Express, Protec Fuel, Murphy USA, Rutter's, MAPCO and Cenex, O'Brien reports. And those retailers are big on the benefits this biofuel delivers.
 
"We have seen many benefits to selling E15," says Minnesota Service Station Association (MSSA) Executive Director Lance Klatt, who notes that Minnoco dealers have been selling E15 for more than four years. Minnoco has publicly stated that E15 contributes to more than 30 percent of the company's fuel sales.
In fact, E15 fuel sales account for between 33 percent and 36 percent of overall sales for all MSSA members who offer it, according to Klatt.
"Consumers want a good value when it comes to fuel, and with E15 they get a cleaner burning fuel that has higher octane and is generally less expensive than regular 87," Klatt says. "E15 is a little cheaper — about 5 cents or more less per gallon than 87 — which can help attract more customers in this highly competitive industry."

The competitive advantage E15 provides also leads to more visits from customers who are not only buying fuel but also are making purchases inside the store.
'Our members selling it have also used it as a niche fuel — it enables them to offer something different in the marketplace for the consumer," Klatt says. "When we give them a better option, consumers are choosing E15 again and again."
The fact that this high-octane fuel is more readily available than it's been in the past (it is now available at 1,400 sites in 30 states) is also contributing to the popularity of E15.
"In 2011, the first site started offering E15. In 2015, E15 was just selling at barely 100 sites. In 2016, that number had increased to just over 600 sites," O'Brien reports. "In 2017, 1,200 sites were selling E15 and by the end of 2018, it's on track to be offered at around 1,600 sites."

A Compelling Player in the Fuel Marketplace
With all the discussion and ensuing debate about different kinds of fuels and their potential impact on the marketplace, one thing is a constant: consumers just want to fuel up and be on their way.
"Growth Energy has completed extensive research to find out specifics about consumer purchasing behavior and perceptions regarding E15. Purchasing fuel is a task most consumers just don't want to think about — they want to be able to get in and out as quickly as possible," O'Brien says.
That means educating drivers about biofuels as clearly and quickly as possible is essential to building on the current momentum.
"After more than 4,000 completed surveys that included customer intercepts while fueling, the research concluded that once educated about E15, consumers were willing to try the fuel and were excited about the information they learned about it," O'Brien explains.
Educating and marketing E15 to consumers can take a myriad of forms, depending on the retail partner and the market in which they're located.
"Some market via their customer loyalty program or offer coupons, while others use Facebook and social media as advertising to reach their audiences," O'Brien says. "Our partners have also found that price signs and advertising the price differential are very helpful when selling E15."
With consumers' opinions about biofuels improving as they learn more about the fuel, the future appears bright for retailers who offer E15 at the pump.
Predicts O'Brien: "As more consumers become more aware of the benefits that E15 offers — for vehicle performance, the environment and their budget — and as availability becomes more convenient, demand and sales will continue to increase and adoption will continue to rise."

Coming next … Marketing E15: Engine-smart, Engine-enhancing