Global Flavors, Flexible Choices Among the Future of Menu Trends
Get great content like this right in your inbox.
Subscribe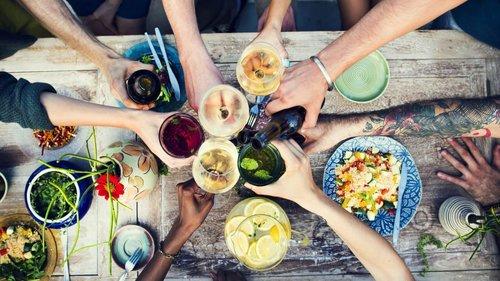 ROSEMONT, Ill. — It's not your father's menu anymore.
Healthy eating has been a key consumer trend over the past 30 years, moving from weight management in the 1980s through 2000, to feel-good foods, to today's functional foods, said Mark DiDomenico, director of client solutions at Datassential Inc.
Speaking at the 2018 NACS State of the Industry Summit, DiDomenico explained that Healthy Eating 3.0 — the rise of functional foods — really began to take hold around 2010 and items have increasingly appeared on menus over the past several years.
Notably, foods experiencing four-year menu growth include: chia seeds (up nearly 400 percent), flax seeds (109 percent), pumpkin seeds (72 percent), bee pollen (64 percent) and turmeric (176 percent).
Taking it up a notch, functional food is now beginning to cross the lines into other areas like medicinal. One example, according to DiDomenico, is Nestle's acquisition of vitamin maker Atrium Innovations for $2.3 billion.
Food and beauty, he said, is the next version of Healthy Eating 3.0.
"What can food do for you?" he asked.
Along with what they want from their food, consumers are also changing how they classify themselves when it comes to eating.
Vegetarian or meat eater? It's not an all or one situation, DiDomenico explained.
According to Datassential research, there has been a 16-percent decline in the number of consumers who classify themselves as strictly meat eaters. On the other end of the spectrum, there's been a 5-percent rise in consumers who say they are vegetarian and vegan.
However, there is also growth in the middle. According to DiDomenico, there has been a 6-percent increase in consumers who classify themselves as flexitarian — they eat everything, but once in a while like to choose vegetarian and vegan options.
"I am not telling you to take hot dogs off the roller grill," he said. "But flexitarians want choice."
And vegan foods are not just for vegans anymore. Consumers across all demographics are ordering vegan items for a variety of reasons, and only 2 percent say it's because they want to live a vegan lifestyle. Other reasons include:
44 percent want to eat less meat;

45 percent believe consuming animal protein is a health concern; and

57 percent want to eat more plant-based protein.
"We still want to eat meat," DiDomenico said. "It's not about giving something up entirely; it's about making the switch."
For example, 55 percent of consumers love steak, while only 5 percent love tofu, according to Datassential.
One thing is clear: "If you are going to provide options for consumers, it's got to be craveworthy," he stressed.
The Next Big Trend
What will be the next big food trend? 
Datassential expects it to be something from the Middle East — originating in Iran, Israel or Turkey, to name just a few countries.
It's not that surprising considering the popularity of the Mediterranean diet, according to DiDomenico.
Tracking four-year menu growth, falafel has increased 45 percent, shawarma 45 percent, and sumac 16 percent.
Datassential's machine learning platform Haiku also predicts a rise in items like bacon jam, cacio e pepe, avocado toast, and ghost pepper.
The important thing to remember, DiDomenico stressed, is not to add items to the menu that are too new.
"You have to be safe about it, safe experimentation," he said. "Play in the realm, but with something consumers may be familiar with."
He pointed to sriracha as an example. In the early days, menus referred to it as Thai chili sauce.
"Make things familiar and people get it," he added.
Hosted by NACS, the Association for Convenience & Fuel Retailing, the 2018 NACS State of the Industry took place April 10-12 at the Hyatt Regency O'Hare in Rosemont.