Go Beyond the Show with CSNews' Redesigned Microsite and App
CHICAGO -- This year's NACS Show, being held here Oct. 1 to 4, promises to be an excellent source for new product innovation and best practices. The staff of Convenience Store News will be all over the show, covering sessions, photographing attendees and special events. In fact, there's so much going on in the Windy City you'll want to stay informed with one or more of these Convenience Store News' print and online media platforms: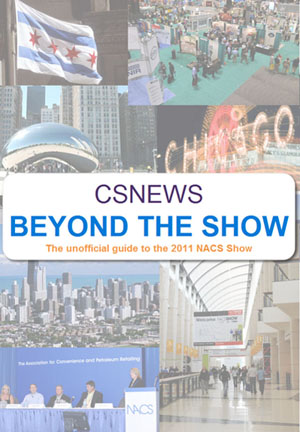 • The only original Show Daily at NACS, published continuously for the past 27 years. Filled with information on what to expect at the show as well as timely reports from the show floor, general sessions, workshops and welcome reception, CSNews Show Daily contains more original reporting than any other show publication. Among the exclusive features in the Show Dailies are interviews with the outgoing and incoming NACS chairs, the winners of the 2011 CSNews Best New Products Awards, and an exclusive look at Speedway, a wholly-owned subsidiary of the newly spun-off Marathon Petroleum Corp. and second-largest operator of c-stores in the greater Chicago market. This issue also contains more information on local attractions, the Windy City's top restaurants, and nightlife for those of you who like to burn the candle at both ends.
• The newly redesigned CSNEWSBEYONDTHESHOW.COM microsite, containing the most up-to-the minute show news, general session and workshop coverage, editors' journals, "Beyond the Show" special attractions and reports, online polls, an interactive Chicago market guide, new products, featured exhibitors, and more.
• The new Beyond the Show app, bringing all the best of CSNews' coverage to your smart phone in an easy to read format, including a Twitter feed of NACS Show tweets.
To download the Beyond the Show app, go to this link: http://m.magmito.com/stagnito/csnbts, or scan the QR code.