GPM Investments Launching Debit Card Loyalty Program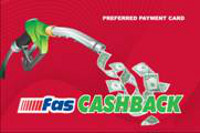 RICHMOND, Va. -- GPM Investments, owner of Fas Mart/Shore Stop Convenience Stores, is launching a new payment method called Fas CASHBACK at its 305 company-operated and dealer locations, primarily in Virginia, Maryland, Connecticut and Delaware.
Customers who enroll for the Fas CASHBACK loyalty debit card will receive 5 cents off each gallon when they buy regular unleaded gas and 10 cents off per gallon on Plus and Premium grade gasoline. In addition, the company will sponsor Member Appreciation Bonus Days, during which the discount could be as high as 20 cents per gallon.
"We are very excited to bring this innovative program to our customers," said Barry Khosropanah, Fas Mart/Shore Stop's senior vice president of information technology. "We are able to use our new payment card program to lower our swipe fees and pass those savings on to our customers instead of paying Visa and MasterCard their much higher fees for processing payment card transactions. We win and our customers win."
The program launches April 8. When they enroll, consumers will link their checking account to their Fas CASHBACK card. They will then use the card at the pump just like they would use a bank-issued payment card. Each time, they will receive an e-mail confirming the purchase they make -- a feature they do not get when using a bank-issued payment card, the retailer noted.
"Fas CASHBACK provides our customers [with] savings at the pump right before their eyes," said Bill Reilly, Fas Mart/Shore Stop's senior vice president of marketing. "The gas experience is now magical. Watching the pump roll back the price of a gallon of gas really captures the customers' attention, especially when so many of our customers are looking for a break at the pump."
The company believes it is the first to offer consumers up to 20 cents off per gallon on Member Appreciation Days.
"Our goal is always to get the gas customer to shop our stores, so in conjunction with the rollout of Fas CASHBACK, we are launching Fas APP for smartphones to help us push coupons while they are pumping fuel. The customer can register for their own Fas CASHBACK card directly from the Fas APP, adding one more example of embracing convenience -- our core business," Reilly added.
GPM Investments chose to partner with the National Payment Card Association (NPCA) to launch Fas CASHBACK. NPCA has been working with convenience store and petroleum companies since 2005 to bring innovative and sustainable fuel loyalty programs to the market.
"Retailers gain more than just a low-cost payment transaction when they implement our program," said Danilo Portal, NPCA's chief operating officer. "They also gain a customer database they can use for many types of marketing purposes, including ways to drive additional in-store sales, which was an important factor to Fas Mart in [its] decision to work with our company."
More information about the Fas CASHBACK program can be found at www.fascashback.com. To join the program, customers simply need to pick up a card and program brochure at any Fas Mart or Shore Stop location. Enrollment can also be completed online at the same website, or customers can download the Fas APP and use their smartphones to enroll.