Greg Parker Honored as Citizen of the Year in Savannah
Get great content like this right in your inbox.
Subscribe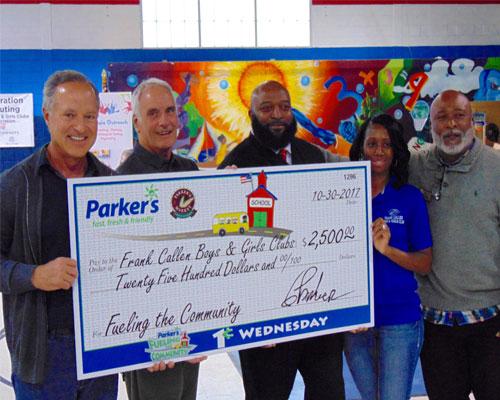 SAVANNAH, Ga. — The Parker's Cos. President and CEO Greg Parker is recipient of the 2017 Citizen of the Year honor by the Frank Callen Boys and Girls Club.
Parker was recognized for his leadership of the Fueling the Community charitable giving program. On the first Wednesday of each month, Parker's donates one cent from the sale of every gallon of gas sold across all Parker's locations to schools across Georgia and South Carolina, as well as local medical centers, like Parker's Emergency and Trauma Center at Memorial University Medical Center in Savannah.
The convenience store executive was honored at the Boys and Girls Club's annual Fall Jubilee on Oct. 30.
"It is such an honor to be here on the 100th anniversary of the Frank Callen Boys and Girls Club, which is an incredible resource in the community," Parker said. "Giving back to the community is part of our DNA at Parker's."
In keeping with a commitment to the community, Parker presented the Frank Callen Boys and Girls Club with a check for $2,500 to support the work of the Savannah community center, which serves up to 300 children daily.
"I think it's important for business leaders to give back," the president and CEO commented. "Education is the tide that floats all ships, so by helping young people, we are helping making our community stronger better more economically viable and safer."
Parker founded the Parker's c-store chain in 1976, which has been ranked on Inc.'s elite list of the top 5,000 fastest-growing private companies in the U.S. for four consecutive years. The president and CEO has been honored by Convenience Store News as the Tech Executive of the Year and by the Savannah Chamber of Commerce as the Entrepreneur of the Year.
Savannah-based Parker's currently operates 50 convenience stores across Georgia and South Carolina and employees nearly 1,000 people.