Growth Energy Sets Off on Bus Tour to Rally Support for Ending E15 Restrictions
Get great content like this right in your inbox.
Subscribe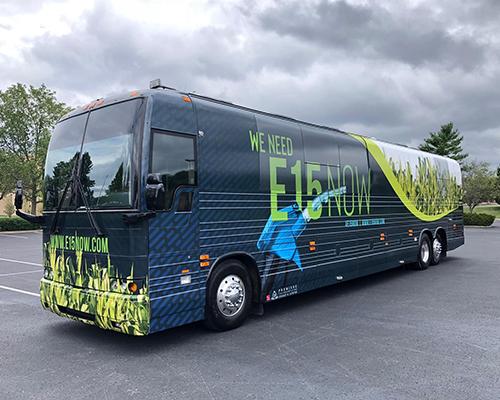 WASHINGTON, D.C. — Growth Energy is launching a bus tour to rally support for the end of restrictions that prohibit E15 from being sold during the summer months.
The "E15 Now" branded bus will visit gatherings in the Midwest over the next few months following its first appearance at the Cattle Congress in Waterloo, Iowa, on Sept. 15.
While E15 is sold at least eight months out of the year in 30 states, regulations prevent the biofuel from being sold year round.
"E15 is good for the consumer, it's good for the environment, and it's good for the wallet — plain and simple," stated Growth Energy CEO Emily Skor. "Allowing year-round sales of higher blend fuels like E15 also helps our farmers by increasing domestic markets for farmers, a critical need when American farm income is declining for the 5th consecutive year.
"Not only does this give farmers in rural America more certainty because of increased demand for their grain, it also allows consumers to choose a more affordable and cleaner burning fuel at the pump. We need E15 year-round, and we need it now," she added.
The bus tour is part of Growth Energy's efforts to end the date-based sales restrictions. President Trump and U.S. Department of Agriculture Secretary Sonny Perdue have spoken in favor of allowing E15 to be sold year round.
"Rural America is counting on the Trump Administration to open up new domestic markets for homegrown fuel so we can have cleaner, more affordable options at the pump," Skor said. "Nationwide adoption of E15 could drive billions of gallons of new ethanol demand, creating a much-needed market for two billion bushels of American corn. We're calling on policymakers to make certain that 2018 was the last summer that drivers are denied a chance to save money on fuel while supporting local farmers. Our bus tour will help spread the message at fairs, campaign rallies, and community events across the heartland that rural America wants action on E15, and we want it now."
Based in Washington, D.C., Growth Energy represents producers and supporters of ethanol.