GSP Honored for Thorntons & Tom Thumb Design Work
CLEARWATER,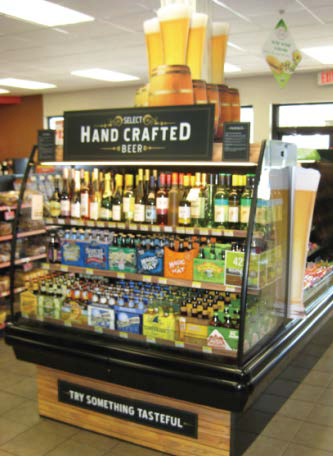 Fla. -- GSP, a graphic and industrial design firm, earned a 2013 American Graphic Design Award for its work around both the 2012 Thorntons General Managers Conference and Tom Thumb Craft Beer POP Signage.
The Thorntons General Managers Conference theme and campaign was designed and produced by GSP's design services team to brand Thorntons Inc.'s yearly conference. The "Refreshing Convenience" idea was inspired by Thorntons' prototype store direction, while the General Manager of the Year signage was inspired by GQ magazine covers, with each general manager finalist as the cover celebrity. In addition, to create impact in the conference center venue, GSP designed a variety of large signage.
The Tom Thumb Craft Beer POP Signage was also designed and produced by GSP to create a "go-to destination" for Tom Thumb's craft beer selection by driving customer traffic and craft beer sales. Large three-dimensional, contour-cut beer glass and barrel graphics were designed to create impact and improve visibility from the front door. The design incorporated handcrafted style elements to convey the craft beer look and feel.
The American Graphic Design Awards, now in its fifth decade of competition and sponsored by Graphic Design USA magazine, honors outstanding work of all kinds and across all media.
"We are very pleased to win these graphic design awards from the premier Graphic Design USA magazine. The theme and large signage designed for the Thorntons General Manager Conference created excitement and clearly communicated the message in the large space," said Steven Cohen, GSP's vice president of design services. "The effective use of the large beer glasses and handcrafted style elements in the Tom Thumb craft beer signage helped create an eye-catching craft beer destination. We are very proud of what we were able to accomplish with our retail partners."
Clearwater, Fla.-based GSP delivers original merchandising solutions, product campaigns and category reimaging projects that are tailored to each retailer's needs.