Healthy Eating Means Cutting Out or Cutting Back
CHICAGO -- More consumers are trying to eat healthy, but that doesn't necessarily mean they are sticking to diets when they dine out. According to a new study by The NPD Group, consumers will indulge, but are more apt to cut out an item or cut down an order -- news that isn't very positive for foodservice operators.
The study, Healthy at Foodservice — Consumer Expectations Put in Perspective, found that more consumers will forsake ordering a healthier item, choosing instead to cut out desserts, have water instead of revenue-generating beverages, or order smaller portions.
If consuming something healthier from a foodservice channel, consumers are likely to choose the following, according to NPD's study: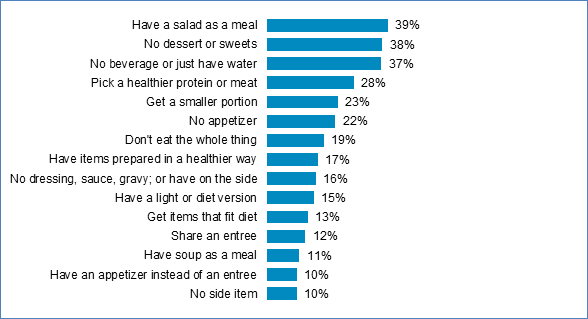 The study also examined key order drivers, phrases consumers associate with healthy eating, and target markets for healthy eating away from home.
While more than 50 percent of adults say they eat healthy meals always or most of the time at home, only 25 percent say they eat healthy foods when they go out to eat. The variance reflects the differences in consumers' priorities, which change depending on where they eat, according to the research firm.
In addition, of those consumers not ordering healthy when they dine out, 37 percent said, "I want to eat what I want to eat," and 23 percent said, "I want to indulge when I go out to eat."
"The bottom line is, even with an increasing number of restaurants offering healthier menu items or posting caloric and other nutritional information, at the end of the day, consumers see dining out as a treat; an indulgence," said Bonnie Riggs, NPD's restaurant industry analyst. "Operators and foodservice operators are in a challenging position to balance meeting their customers' wants and needs like any successful marketer should do, [as well as] meeting the societal responsibilities. A first step is understanding healthy from the consumers' perspective."