Heineken Goes Mobile With Soccer Viewing Party Promo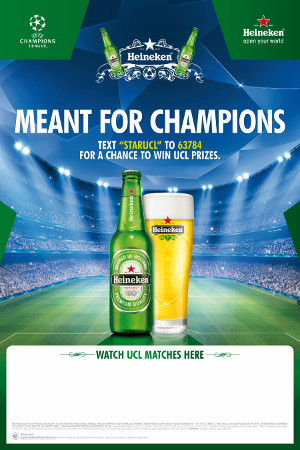 WHITE PLAINS, N.Y. -- Heineken launched the Heineken Champions mobile and Facebook application (app), kicking off a nationwide competition for the chance to bring a grand-viewing event of the UEFA (Union of European Football Associations) Champions League final to the winning city on May 25.
In connection with its sponsorship of the UEFA Champions League this year, Heineken will create an exclusive soccer viewing party in the United States. Fans over 21 years of age can vote until mid-April for a chance to have the viewing party in their city by taking a photo of themselves enjoying a match, uploading it to the Facebook tab or mobile app and tagging their location. Every photo uploaded scores a point for their city.
"Heineken is thrilled to host these one-of-a-kind experiences to celebrate the best soccer in the world displayed in the UEFA Champions League," said Pattie Falch, brand director for Heineken. "Just like our beer's signature world-class taste, fans can expect a premium event that pays tribute to their appreciation for the tournament and enhances the excitement of the viewing experience."
The Heineken Champions mobile and Facebook app features a leaderboard for fans to know when they need to rally friends and family to vote. The app also enables fans, where legally permissible, to locate the closest retailer to pick up Heineken for home viewing or find a bar nearby to watch the matches live.
At retail, a text-to-win mechanism gives fans the opportunity to instantly win UEFA Champions League memorabilia, such as scarves, jerseys and signed items.
The Heineken Champions app, developed by Cultur8, is available to consumers on Heineken's Facebook page, as well as in the Apple store and Google Play.