Hertz to Offer CNG Car Rentals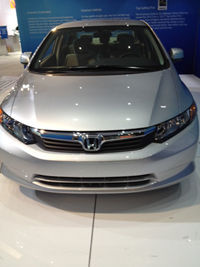 OKLAHOMA City, Okla. -- The quest to make compressed natural gas (CNG) a prominent petroleum alternative received a boost this week when The Hertz Corp. announced it will begin renting CNG vehicles at Will Rogers Airport here next month.
Eight Honda Civic NGs and two CNG GMC Yukons will be added to Hertz's fleet, the rental car company said. The new rental vehicles made their first appearance at Wednesday's Oklahoma City Thunder basketball game.
"Hertz is committed to providing our customers with a full spectrum of vehicle options to suit their rental needs, including clean-emission vehicles such as CNG, electric vehicles, as well as other fuel-efficient vehicles included in our Green Traveler Collection," said Mark Frissora, chairman and CEO of Hertz. "As more low-emission, fuel-efficient vehicles become available for general use, we will continue to expand our rental fleet, reflecting our dedication to offering sustainable travel options."
CNG is locally produced, cleaner burning, more abundant and cheaper than petroleum, according to experts.
Aubrey McClendon, part owner of the Thunder and CEO of Chesapeake Energy -- the company perhaps most bullish about the future of natural gas -- said he was delighted by Hertz's decision.
"Through its natural gas vehicles rental program, Hertz shows its industry leadership and further illustrates the exciting future of natural gas as a transportation fuel," he said. "By renting a CNG vehicle, Hertz customers will cut their fueling costs in half, while driving a vehicle that is better for the environment. We hope the success of Hertz in Oklahoma City leads to adoption of this program nationwide."
Customers renting CNG vehicles in Oklahoma City have some fill-up options. As CSNews Online has previously reported, both Love's Travel Stops & Country Stores and OnCue Express offer CNG for sale at select locations in the area.
Hertz has dabbled in CNG before. The rental company last year offered the fuel alternative through its Hertz On Demand program at Oklahoma State University. In addition, Hertz deploys CNG airport buses at Los Angeles International Airport and offers CNG rentals in Italy and the United Kingdom.