Hess Donates $2M to N.D. Heritage Center Museum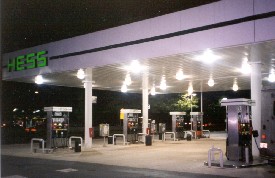 BISMARK, N.D. -- Hess Corp., the company that drilled North Dakota's first oil well, announced a $2 million donation toward the planned expansion of the state's Heritage Center museum, the Associated Press reported.

Hess' donation, along with $1.35 million in gifts from six other energy companies, pushed the donation total for the center above $9 million. The project needed at least $6 million in gifts before construction could begin, according to the report.

The other donations included: $350,000 from Whiting Petroleum Corp., of Denver; $250,000 each from MDU Resources Group Inc., of Bismarck, and North American Coal Corp., of Dallas; $200,000 each from Marathon Oil Corp., of Houston, and the North Dakota Petroleum Council, of Bismarck; and $100,000 from Brigham Exploration Co., of Austin, Texas.

Bids for construction of the $52 million project will be opened Oct. 28, said Merl Paaverud, director of the State Historical Society of North Dakota. He hopes construction will be finished in 2014, which is North Dakota's 125th anniversary year.

The expansion, which will double the Heritage Center's size, will include a new theater and cafe, display galleries and a glass entrance on the building's east side.

"We've been dreaming about this, thinking about it constantly, and all of a sudden, it's real," Paaverud said. "It's like going outside and seeing summer." The North Dakota Legislature agreed last year to spend almost $40 million on the project, with the stipulation that $12 million of the construction costs be provided by outside funds. Of the $9 million in donations so far, more than $6.5 million has come from the energy industry, the Historical Society's foundation told the Associated Press.

Amerada Oil, which merged with Hess Corp. in 1969, drilled North Dakota's first oil well in Williams County in northwestern North Dakota in April 1951. Hess, based in New York City, still maintains dozens of oil wells and operates a natural gas processing plant here.

"Since we've been such an entrenched part of North Dakota's history, we felt like we really wanted to contribute to the preservation of North Dakota's history, as well as our own," John Simon, Hess' senior vice president for production, said of the company's donation.