Hispanic Retail 360 Summit Kicks Off With Cultural Immersion
LAS VEGAS -- The ninth annual Hispanic Retail 360 Summit kicked off today, giving attendees a chance to immerse themselves in the Latino culture and experience the Hispanic shopper perspective by visiting local stores and neighborhoods on a bus tour guided by Hispanic market professionals.
The three-bus Cultural Immersion Tour, led by XL Edge co-founder Armando Martin and his team of marketing experts, made several stops -- a Dollar General Market concept store and a La Bonita supermarket, both on South Rainbow Boulevard, and a Food 4 Less store on East Sahara Avenue.
The tour offered a varied glimpse inside the world of Hispanic retailing. At one end of the spectrum was Dollar General, which merchandises a mix of Hispanic products on shelves with non-Hispanic products, but also highlights several Hispanic items like Mission tortilla products and El Gaupo spices and herbs in end-of-aisle displays.
At the other end wa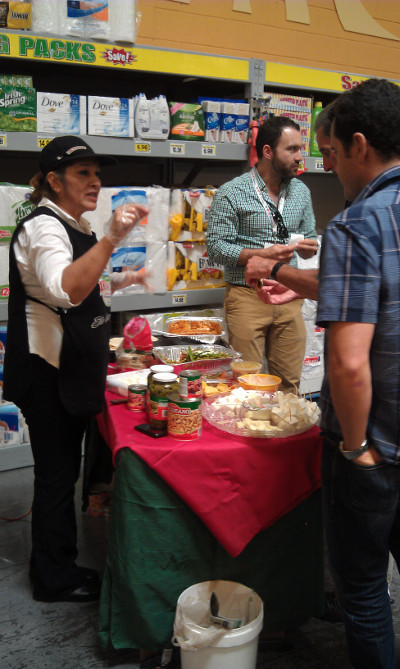 s La Bonita, which caters to the Hispanic shopper. The store places a strong emphasis on fresh food -- from bakery to meat to produce -- with ethnic food favorites like oxtail, chicken feet and plantains.
Though different in their approach to Hispanic retailing, the retailers had one thing in common: they welcomed the Hispanic shopper with bilingual signage throughout the stores. La Bonita, in fact, even prints its weekly fliers in both English and Spanish.
Creating a spectrum of its own, Food 4 Less takes an out-of-the-box approach to Hispanic retailing. The Kroger Co. division offers a traditional supermarket where Hispanic products play a prominent role in the store's inventory mix.
What makes Food 4 Less stand out is its Saluda la.vita marketing program. The bilingual monthly publication, which prints 200,000 copies a month, reaches grocery shoppers who speak Spanish at home. It features shopping tips, recipes, product advertisements and coupons scattered throughout its eight pages.
The theme of this year's three-day event -- being held through Aug. 16 at the Red Rock Resort, Casino and Spa -- is "Understanding Millennials' Path to Purchase." Following today's tour, Summit attendees were treated to three general sessions discussing the generation of innovation, mobile and social; how Aldi Inc. is driving engagement with Millennials; and understanding diverse Latinos.
Millennials are the second-largest segment of the Hispanic population. According to the U.S. Census Bureau, 17 percent of Hispanics (8.8 million) are aged 15 to 24, while 18.9 percent are aged 5 to 14. Understanding how Hispanic Millennials view stores and brands, as well as what influences their purchasing decisions, are crucial insights for today's retailers and suppliers.
The 2013 Hispanic Retail 360 Summit continues Thursday with more general sessions, concurrent sessions and the keynote address by actor, director and producer Edward James Olmos. Born in Los Angeles to Mexican-born parents, Olmos transitioned from music to acting in the late 1960s. He is best known for his roles in the Broadway play "Zoot Suit," the film "Stand and Deliver," and television shows including "Miami Vice" and the SYFY series "Battlestar Galatica."
To see the full agenda, click here.