Hot Stuff Unveils New Distribution, License Initiative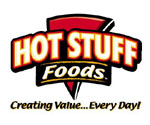 SIOUX FALLS, S.D. -- Hot Stuff Foods unveiled Hot Stuff Foods Xpress, a new foodservice distribution partnership and license initiative that the company said will usher in a new era of "tag-teaming" with distributor partners to provide the highest level of service to retailers across the country.

"Hot Stuff Foods Xpress offers the retailer the best of both worlds -- delivery through their distributor, coupled with trusted Hot Stuff branding. In addition, with hot options and self-service options, the consumer can have what they want when they want it," stated Hot Stuff Vice President of Marketing Craig VanHyfte. He also pointed out just about every retailer committed to quality foodservice now can provide 24/7 foodservice availability, regardless of the size of their operation.

"Hot Stuff Foods Xpress is designed specifically to occupy minimal space, utilize less labor and require less capital expense, while offering strong gross margins with no franchise fees or royalties," said VanHyfte. "In addition, whether it's breakfast, lunch, dinner or just a mid-afternoon or late night snack, Hot Stuff Foods Xpress offers an array of daypart specific menu choices, including hot pizza slices and/or take-n-bake pizza, breakfast and lunch sandwiches, calzones, stuffed breadsticks, burritos and more."

Nancy Lewis, c-store operations manager for T&M Express of Nevis, Minn., has been a successful Hot Stuff franchisee, and recently partnered with her local distributor to implement Hot Stuff Foods Xpress.

"We actually have both -- the full component program (Hot Stuff Foods franchise) and the Hot Stuff Foods Xpress program," she stated. "We installed the Xpress unit because we weren't sure if the store's location could support the traffic, and we also wanted to keep our labor to a minimum. The Xpress program also has less pieces to the puzzle and it was easy to train our employees, and quickly get up and running. Hot Stuff Foods Xpress gives us the capability to provide quality foodservice in a smaller space."

T&M Express is already in the process of adding a third Hot Stuff Foods location.