How to Effectively Tackle C-store Marketing This Year
Get great content like this right in your inbox.
Subscribe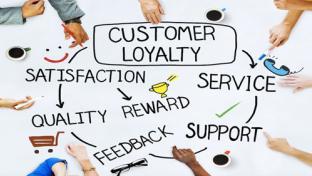 NEWARK, N.J. — The importance of leveraging technology in the convenience store industry was apparent in 2017. With the increasing amount of disruptors in the retail space, c-stores will have to keep adopting tech-savvy marketing strategies to hold onto and grow their customer bases in 2018.
Convenience Store News Editorial Director Don Longo recently hosted a webinar titled "The Future of Convenience Store Marketing: Predictions for 2018" with Kimberly Otocki, content marketing specialist at loyalty provider Paytronix. The event highlighted the latest trends in guest data analysis, retail marketing product development, customer communications and loyalty programs that could help boost retailers' bottom lines.
"According to the Convenience Store News 2018 Industry Forecast Study, the c-store industry's retailers, suppliers and distributors are largely optimistic about the current state of the U.S. economy and their own businesses for the coming year," said Longo. "Of course, they have some reservations about business prospects but, on the whole, they're extremely upbeat about the next 12 months. But we also know that success depends on being prepared for 2018's trends and challenges, and putting yourself in a position to overcome any roadblocks that may come your way."
What Happened in 2017?
Paytronix's Otocki labeled 2017 "The Year of Disruptions," pointing out that a number of new brands and industries entered the "convenience space" and shook up the industry. Her goal in the webinar was to explain to those in the industry how they can fend off these disruptions and make sure they're still a part of their customers' daily lives.
Among the disruptors in 2017 were Amazon and its Amazon Go cashierless c-store prototype; Reebok's reimagining of gas stations; fast food; dollar stores; as well as big-box stores like Walmart and Target. Since these disruptors aren't going anywhere anytime soon, c-stores must learn how to compete.
Get New Customers
Getting new customers is going to be pivotal for convenience store retailers amidst the growing competition in the space — in addition to keeping the customers they already have.
Otocki referenced Paytronix's Loyalty Impact Model, which shows that Loyalty Impact is the number of customers enrolled in a loyalty program multiplied by the percent of active loyalty customers, multiplied by the amount the active members are spending. The No. 1 thing for retailers is to have a lot of customers enrolled in the program — both old and new.
"Making sure that you have more customers than the guy down the street" is what it's all about, according to Otocki.
Become Data-Oriented
Because of how companies like Amazon and Walmart are leveraging data, convenience stores are going to have to make that shift as well. Amazon generates loyalty — two-thirds of U.S. consumers are Amazon Prime members — by using its data to serve its customers content based on what they know they're going to want, offering a personalized, one-to-one connection.
If the c-store industry wants to remain competitive, said Otocki, it needs to leverage data in a similar way. "Giving customers the experience that they want, it's about what they want from you," she explained.
Predictive Analytics
Data that companies use to segment their customers based on what they did in the past is useful. Even more useful, however, is determining what guests might do in the months ahead. It's the difference between data that shows who were the best guests last month and what the most purchased item was, and predicting who the best guests will be next month and what the most purchased item is likely to be.
According to Otocki, "This is what the future of marketing is really all about." Predictive analytics will help retailers become even more effective at running promotions to increase sales, as they're looking ahead instead of behind.
Taking the Moneyball Approach
Referencing the book "Moneyball: The Art of Winning an Unfair Game" about the Oakland A's baseball team's analytics-based strategy to compete against teams with higher revenues (and the 2011 movie starring Brad Pitt), Otocki said predictive scoring could be the answer for c-stores.
In predictive scoring, everything about a customer is whittled down to one number. It uses past data to predict the future with a scorecard based on an algorithm. For instance, Paytronix has determined consumers' "Likely to Visit" score based on such data as gender, age, lifetime visits and loyalty tenure.
It's All About "Me"
"Customers expect everything to be tailored to them, relevant to them and personalized," said Otocki. Retailers can do this by first segmenting customers based on personas like "Bubba the Truck Driver," "Susie the Soccer Mom," and "Kristen the Professional" and offering them promotions that are most likely to meet their needs.
Why is segmentation so important? Otocki cited the three R's: relevance of promotions, retention of customers, and revenue for the retailer.
The Digital Customer Experience
It's vital for retailers to make sure they're giving customers a seamless and engaging digital experience, according to Otocki, who pointed out that 90 percent of consumers are using smartphones while in-store. Mobile platforms go beyond apps to SMS messaging, responsive web pages, social media, geofencing, mobile wallets, and online ordering.
Providing a quality digital experience not only can increase loyalty with existing customers, but also could attract new customers.
PumP-to-Store Promotions
Since margins on fuel sales are small, it's vital that c-store operators get those customers to go in-store to make purchases on higher-margin items. Programs to convert fuel-only customers into fuel-plus customers can be as simple as increased signage at the pump.
Per Otocki, 32 percent of customers notice signage at the pumps that showcase promotions, which influences a purchase. These pump-to-store promotions include buying a product or spending so many dollars to get so many cents off per gallon of gas.
Mobile Payment & Ordering
While mobile payment was part of the discussion last year, it's an even bigger deal for 2018, with more and more customers adopting the payment method. Not only does it ease friction at checkout for customers, but it also drives loyalty and collects data via NFC Loyalty.
As for mobile ordering, it will become an increasingly important service for c-stores that are big on foodservice. Industry-leading chains such as Wawa Inc., QuikTrip Corp. and Sheetz Inc. have already rolled out mobile ordering programs.
Home delivery and scan-and-go programs are two other retail technology services that will begin to sweep through the c-store industry in 2018, according to the webinar. 
A replay of "The Future of Convenience Store Marketing: Predictions for 2018"  is available here.