Hunt Brothers Pizza Celebrates 7,000th Retail Location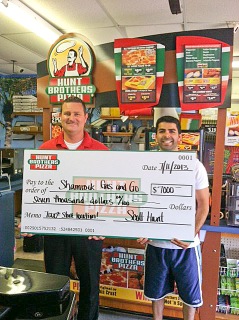 POTTSBORO, Texas -- Like a pie served straight from the oven, Hunt Brothers Pizza is on a hot streak. The made-to-order pizza brand today celebrated the opening of its 7,000th retail location, adding locally-based Shamrock Gas and Go to its network of convenience store partners.
"We looked at all other fast-food restaurants to put in our facility, but Hunt Brothers Pizza was the best choice -- not only because they have the best pizza we have ever tasted, but also because they go above and beyond for their customers," said Jesse Bassi, owner of Shamrock Gas and Go. "You can't go wrong with the decision to put Hunt Brothers Pizza at your facility. Since we've added the pizza shop, our sales have gone up and our customers love it. It's fresh and you can't beat the price."
According to the company, the four Hunt brothers had been in the pizza business for three decades when they developed the Hunt Brothers Pizza business model in 1991. Their frozen pizza crust eliminated 90 percent of preparation time and simplified the cooking process, which made it appealing to convenience store owners who could open a turnkey "pizza shoppe" right in the middle of the store with minimal floor space.
Hunt Brothers Pizza offers regular, thin crust and breakfast pizzas with "All Toppings No Extra Charge," plus Hunt Brothers Wings in Southern Style and Hot 'n Spicy flavors, and Wingbites in Home Style and Buffalo flavors.
"We've reached this important milestone one store at a time, standing side by side with our partners at each convenience store location and forming personal relationships every step of the way," said Scott Hunt, CEO of Hunt Brothers Pizza. "We're out there every day driving traffic through their doors, and that's why c-store owners are excited to partner with us."
Every convenience store that offers Hunt Brothers Pizza has a dedicated account representative who personally delivers product, rotates inventory and evaluates opportunities to increase sales, the supplier noted. The company also offers free marketing materials, frequent sweepstakes, promotional opportunities, an active social media fan base and a free ongoing training program for c-store employees.
In addition, Nashville, Tenn.-based Hunt Brothers charges no franchise or marketing fees to its c-store partners located in 28 states.