Hurricane Harvey Relief Keeps Pouring In From C-store Industry
Get great content like this right in your inbox.
Subscribe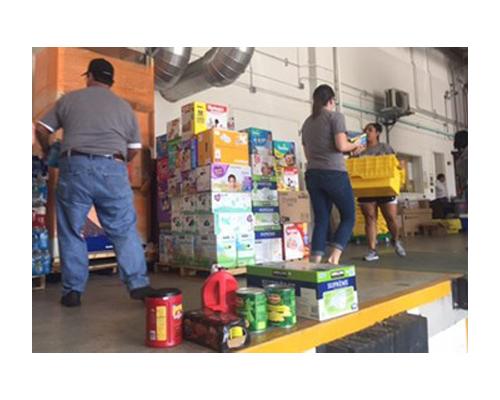 NATIONAL REPORT — More than a week after Hurricane Harvey roared ashore in southeast Texas, the convenience store channel continues to show that community is at the heart of the industry.
Here is a breakdown on how additional companies from both sides of the channel's supply chain are helping with relief efforts, as compiled by CSNews Online.
Army & Air Force Exchange Service
Dallas-based The Army & Air Force Exchange Service is supporting relief efforts with Mobile Field Exchanges (MFEs).
An MFE is a retail store in a 53-foot trailer that carries merchandise such as snacks, drinks and toiletries. MFEs, designed to move at a moment's notice to support troops across the world, are used in operations where no permanent Exchange facilities are available.
Leaders at the Texas State Guard on Aug. 30 formally requested an MFE to support troops deployed to Camp Swift in Bastrop, Texas. By noon Aug. 31, the MFE was up and running with a steady stream of Guard members stocking up on beef jerky, shampoo, sports drinks and more, according to the company.
In addition to the MFE at Camp Swift, command in Corpus Christi, Sinton and Hempstead, Texas, have requested MFEs, which were set up over the Labor Day weekend.
Andeavor
To assist with initial relief efforts throughout Texas and Louisiana, San Antonio-based Andeavor has made a $100,000 contribution to the American Red Cross, as well as a $50,000 contribution to the San Antonio Food Bank to support those that have sought shelter in San Antonio.
Additionally, Andeavor created a special Matching Gifts Program for employees to have their personal contributions to the American Red Cross, Salvation Army, AmeriCares and Feeding Texas matched up to $5,000 per employee. This new program is in addition to Andeavor's existing $5,000 Matching Gifts Program.
Casey's General Stores Inc.
Ankeny, Iowa-based Casey's General Stores Inc. is accepting customer donations at the register to help those affected by Hurricane Harvey and will match all donations received from Sept. 1 to Sept. 15, up to $100,000. Funds will be provided to the American Red Cross to help those affected by record-setting floods that have devastated Texas and Louisiana.
Customers will have the ability to donate any amount up to $249.99 per transaction at the cash register of any Casey's location. Customers may add the amount to their purchase, or donate separately if they are not making an in-store purchase.
Core-Mark Holding Co. Inc.
South San Francisco-based Core-Mark Holding Co. Inc. is also helping with recovery assistance. In conjunction with state and federal disaster relief officials, Core-Mark's hurricane relief assistance will leverage its expansive supply chain in the region to supply much-needed food and water to first responders and to support recovery efforts for its customers in the region.
The company's relief and assistance operations is being coordinated from Core-Mark's mobile command post, and includes large and small delivery vehicles from its fleet to increase penetration of supplies into the worst regions impacted by the hurricane.
In addition to on the ground rapid response efforts currently underway, Core-Mark International is establishing a relief fund to assist Core-Mark's affected employees in the region, as well as donating money to assist the victims of Hurricane Harvey.
E. & J. Gallo Winery
E. & J. Gallo Winery donated $100,000 to the American Red Cross to aid with relief efforts, and assist those communities impacted by Hurricane Harvey. In addition, Modesto, Calif.-based E. & J. Gallo Winery will match personal donations dollar for dollar made by its employees through the company's Employee Match Program. The donation will assist the American Red Cross.
First Data
New York-based First Data sent thousands of its Clover Go mobile credit and debit card readers to the Houston area to distribute free to business owners who were impacted by Hurricane Harvey. The initiative, designed to help the local economy get back on its feet, includes free device installation and discounted pricing, in addition to the free Clover Go mobile readers.
For businesses that are not currently clients of First Data, the company is offering free Clover Go devices with no setup fees and no minimum monthly fee for the next six months. Current First Data clients whose payment hardware was destroyed in the storm can receive new Clover Go devices, at no charge.
Kellogg Co.
Kellogg Co. is sending an additional 30 million servings of product donations to assist Feeding America with its Hurricane Harvey relief efforts. Kellogg will continue to support Feeding America in its efforts to assist food banks in Texas and Louisiana, where the storm made another landfall on Aug. 30.
The Kellogg Co. Fund is also making a $100,000 donation. The Battle Creek, Mich.-based company has a history of providing donations to areas affected by natural disasters as part it of its Breakfasts for Better Days global signature cause, Kellogg stated.
Love's Travel Stops
In response to devastation and widespread flooding caused by Hurricane and Tropical Storm Harvey, Love's Travel Stops is giving a total of $1 million to help with mid- to long-term relief and recovery efforts.
Love's will give $500,000 to the United Way Harvey Recovery Fund. This fund ensures 100 percent of donations will be distributed to local United Ways to help victims in the affected areas in Texas and Louisiana in the months and years ahead.
The company is also earmarking $500,000 to help its employees through the Love's Employee Emergency Fund.
As relief and recovery efforts continue, Love's headquarters in Oklahoma City is receiving numerous stories of employees distributing cases of water and food to stranded professional truck drivers and motorists, feeding and providing shelter for families and first responder teams, and working for days on end to keep fuel deliveries on track and travel stop locations open to serve the public, the company stated.
Love's support teams have also been working to procure deliveries of fuel, food and supplies. Managers from Oklahoma and North Texas have also traveled to the area to help out.
Marathon Petroleum Corp.
Findlay, Ohio-based Marathon Petroleum Corp. (MPC) is donating $1 million to charitable organizations and municipalities in the Galveston County and Corpus Christi, Texas, areas to assist with recovery from Hurricane Harvey, and will donate up to an additional $100,000 to match donations from its employees.
The $1 million MPC donation will be divided among the following entities:
United Way of Galveston County Mainland, including:
United Way of Galveston County Mainland Hurricane Relief Fund
American Red Cross — Galveston Branch
American Red Cross — Coastal Bend Branch (serving the Corpus Christi area)
Salvation Army of Galveston County
Galveston County Food Bank
M.I. Lewis Social Service Center
Interfaith Caring Ministries
MPC donations will also be made to the cities of Dickinson, Friendswood, League City and Texas City, Texas.
Sunoco & Stripes Convenience Stores
Teams from Dallas-based Sunoco and Stripes Convenience Stores are working to support Hurricane Harvey relief and recovery efforts.
On Monday, Aug. 28, Laredo Taco Co. and Stripes began providing free tacos at Corpus Christi's Emergency Response Center. The company works closely with The Salvation Army to provide hot food to local officials, first responders, dispatchers, electric providers and technicians.
In addition, Laredo Taco Co. truck operations were stationed at a local Stripes c-store in Port Aransas, Texas, to provide free tacos and water to residents and responders.
The Sunoco Foundation and Energy Transfer Partners also made a $500,000 donation to the American Red Cross for its disaster relief efforts.
Sunoco redeployed dozens of trucks and drivers from across the country — from as far away as the Northeast, Florida and California — to support keeping sites in fuel to support recovery efforts