Illinois Governor Snuffs Out Tobacco 21 Bill
Get great content like this right in your inbox.
Subscribe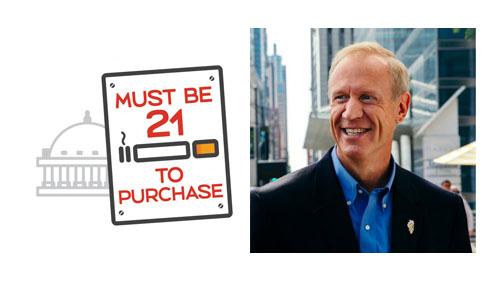 SPRINGFIELD, Ill. — Illinois is not joining the statewide Tobacco 21 movement.
Nearly three months after state lawmakers in the Illinois House of Representatives and the Illinois Senate voted in favor of increasing the legal minimum age to buy tobacco products to 21 across the state, Gov. Bruce Rauner vetoed the move.
In a statement on Aug. 24, Rauner called smoking "detrimental to the health of Illinoisans of all ages," but argued the bill would only limit consumer choice without keeping tobacco out of youthful hands, according to the Chicago Sun Times.
"Raising the age people can purchase tobacco products will push residents to buy tobacco products from non-licensed vendors or in neighboring states," Rauner said. "Since no neighboring state has raised the age for purchasing tobacco products, local businesses and the state will see decreased revenue while public health impacts continue."
Rauner's signature would have made Illinois the seventh state to prohibit the sale of tobacco products to anyone under 21. Massachusetts will officially become the sixth state when the law goes into effect Dec. 31. 
"I'm stunned that Bruce Rauner, the governor of the state of Illinois, sided with Big Tobacco instead of our children. We have known for decades the dangers of tobacco use. The Illinois communities that stepped up and adopted Tobacco 21 on their own have seen a dramatic decrease in high school smoking rates," said State Sen. Julie Morrison (D-29th District).
Morrison was the lead sponsor of the legislation, Senate Bill 2332.
"At a time of increased vaping use among teens, the governor had an opportunity to make a real investment in the health of our next generation. Instead, he favored political considerations over the health of our children, and in doing so failed us all," she said.
According to the state Department of Revenue, the bill would have cost the state $41 million to $48 million per year in lost cigarette and sales tax receipts, reported the Chicago Sun Times.