01/19/2018
International Smoke Exposition to Debut in Late 2018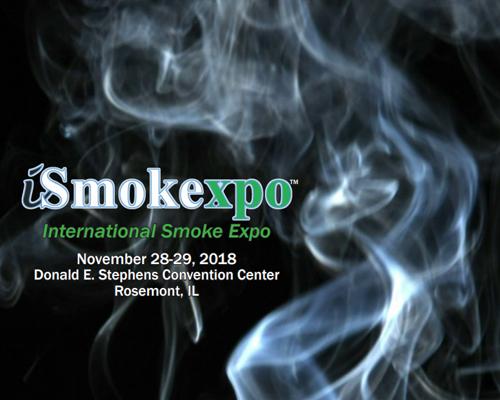 BRANDFORD, Conn. — Tobacco suppliers and retailers will have a new event where they can connect, The International Smoke Exposition.
Known as iSmokexpo, the expo will have its inaugural meeting on Nov. 28-29 at the Donald E. Stephens Convention Center in Rosemont, Ill. The event addresses the facet of the international market for tobacco products, vaping equipment and liquids, hookah and alternative products.
iSmokexpo is being launched by Reuter Exposition Services (RES), the driving force behind several trade shows in related categories. It will feature an exhibit hall that brings together leading suppliers of cigars, cigarettes, hookah, e-liquids, shisha, charcoal, roll your own, papers, machinery, labeling, stamping and alternative products, as well as packaging and accessories.
A Buyer's Lounge, sponsored by B2B Wholesaler Magazine, will serve refreshments and host a Product Award Showcase that spotlights the latest innovations in the tobacco category.  
Planning is underway for a multi-faceted education program that will provide insight into new directions in the industry — such as the growth prospects for the heat-not-burn tobacco products and other next-generation nicotine delivery products.
In addition, programming will look at ever-changing regulatory climate and legislative initiatives affecting the industry, as well as the proven strategies and best practices in specific categories.  Each day will also feature a keynote speaker.
"In a business that is constantly challenged to find new revenue streams while navigating a sea of legislative regulation, we're establishing a forum to unite the global interests of the industry," said RES President Susan Reuter.
"Our focus is to help suppliers build their customer base while enabling general and specialty retailers, wholesalers, distributors, tobacconists and dispensary owners locate untapped resources and benefit from in-depth information."