Ireland C-store Named 2018 NACS International Convenience Retailer of the Year
Get great content like this right in your inbox.
Subscribe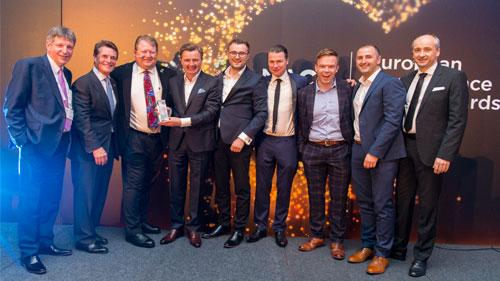 LONDON — Ireland's Fresh The Good Food Market is winner of the 2018 NACS International Convenience Retailer of the Year Award.
The c-store retailer was recognized for its Camden Street location in Dublin. The award, sponsored by Jack Link's Beef Jerky, was presented during the NACS Convenience Summit Europe in London at this year's NACS European Convenience Retail Awards gala on June 6.
"Jack's Link's is very proud to honor such an innovative retailer. Fresh The Good Food Market has elevated convenience to a new level with its focus on sourcing and producing the best fresh produce and food, and by putting the customer experience at the core of everything they do," said Scott Hill, vice president of convenience sales, at Jack Link's.
The award recognizes the most innovative and successful international convenience and fuel retailing store of the year, as chosen by a Grand Jury of leading international retailers and experts. The winner earns the accolade of "the best convenience store in the world."
Judges agreed that Fresh The Good Market exemplifies excellence in convenience retailing. Their comments included:
"Really a unique and powerful example of 'foodvenience,' with food as a destination and a broad range and appeal set in an authentic food experience."

"One of the stand-out entrants this year, strong across all categories and challenging the norm for urban convenience retailing."
Fresh The Good Food Market opened 10 years ago. It operates as an upscale, urban grocery store that also offers a changing food offer throughout the day, offering all-day dining and in-store eating, gourmet take-home meals and world cuisine-themed evenings.
This yearss International Convenience Retailer of the Year Award was narrowed down to 14 finalists from retailers in India, Ireland, Norway, South Africa, United Kingdom, Australia and Spain. OTR Fullerton in the fuel retailer category and SimplyFresh University of Surrey for non-fuel retailer were also recognized as Honorable Mentions from the Grand Jury.
Grand Jury members consisted of: Frank Gleeson, Aramark Northern Europe; Dan Munford, Insight Research; Michael Davis, NACS; Mark Wohltmann, NACS Europe; Magnar Mokkelgard, NACS Europe; Joe Bona, Bona Design Labs; Gary Harris, SPAR International; Jeff Murphy, TMG Consultancy; Craig Panter, Invenco Group Limited; Christian Warning, The Retail Marketeers; Marco Fuhrer, Fuhrer & Hotz AG; Santiago Ferreccio, YPF; and Markus Laenzlinger, Migrolino.
The NACS Convenience Summit Europe brings together convenience and fuel retailing industry professionals from around the world for new knowledge, new commercial connections and networking, and the opportunity to discover and discuss new ideas from retail store tours. The event's International Convenience Retail Awards is now in its 10th year.