Irving Oil Extends Rewards Offer Until End of Year
PORTSMOUTH, N.H. -- Due to its success, Irving Oil is extending the Irving Rewards program until Dec. 31. Customers can keep swiping their rewards cards and saving on gas through the end of the year, with all rewards redeemable until Jan. 31, 2012, the company reported.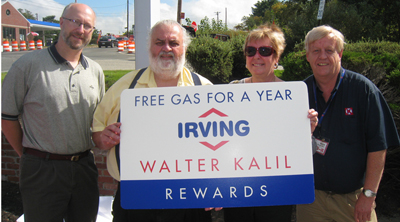 Irving Rewards launched June 1, and was originally slated to end Aug. 31. The program allows consumers to save on gas at more than 300 participating Irving locations in Maine, New Hampshire, Vermont, Massachusetts, Connecticut and Rhode Island. Every $200 in fuel purchases earns 10 cents off per gallon at the customer's next fill-up. In Massachusetts, customers can save at 34 participating Irving locations.
Irving also deployed "Rewards Street Teams" throughout New England this summer, rewarding lucky customers at select locations with tote bags that were randomly filled with gift cards ranging from $20 to $100. In total, these street teams distributed $6,000 in gift cards.
Since the program began, more than 80,000 customers have registered their Irving Rewards cards online. Nearly 61,000 of them have also entered to win free gas for a year, or one of 100 $100 Irving gift cards that are being given away as part of the initiative.
This week, Walter Kalil of Newburyport, Mass., won free gas for a year, awarded in the form of $2,100 worth of Irving gas cards. Kalil, who owns Kalil Lobsters, a hometown-based wholesale lobster business, is one of six New England residents who will free fuel for a year.
"I shop at Irving quite often and the rewards program has been extremely helpful," Kalil said in a released statement. "I've never won anything in my life and had no idea that I would win free gas for a year. I'll certainly put this award to good use."
More information on Irving Rewards is available at www.theirving.com/rewards.
Irving Oil operates Canada's largest refinery, just over the border in Saint John, N.B., and has nearly 900 service stations and travel plazas in New England and eastern Canada.